Baseball card grading revolutionized the sports memorabilia hobby ever since it became popular in the 1990s.  While not without its faults, baseball card grading and authentication has brought honesty to the hobby and has also acted as an impartial judge of transactions between a buyer and seller.  However, many people do not understand the nuances involved in grading or using a baseball card grading service and therefore, use it incorrectly.
The first question is which baseball card grading service should be used. Professional Sports Authenticator
, or PSA, is a very popular choice.  Sportscard Guaranty (SGC) is another, with its strength generally regarded to be in the pre-World War II sports card area. Beckett Grading is popular with modern card collectors, but the company has also made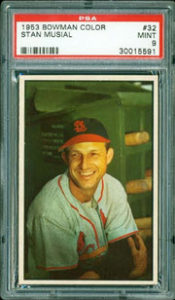 significant inroads with its efforts in the vintage sports card market in recent years.
So why should a collector use a baseball card grading service?  There are three main reasons:
To authenticate a card as being original and not a counterfeit.When baseball cards became extremely valuable it brought a rash of counterfeiting.Some of the bogus cards look quite real to the naked eye and can only be detected by an expert.When you buy a graded card the guesswork is taken out of the process.
Graders can generally detect alterations.It is relatively easy to expertly trim the edges of a card to make the corners sharp. It is also possible to use a marker to touch up areas of a card that have been worn or turn a slightly worn corner sharp .Baseball card grading companies look at cards under specialized lighting to detect any alterations.While not perfect, the grading companies typically can detect sports card alterations.
To make a card more valuable.Baseball card grading companies introduced the concept of centering into the hobby. They will measure the centering of the picture on a card to the nearest thousandth of an inch.Finding a well-centered vintage baseball card is truly harder than one might think.The printing equipment available was very poor and often produced cards that were not perfectly centered on the front or back.Well centered cards are much more valuable, especially when authenticated by a baseball card grading company.
So the question is when does it make sense to have your cards graded? The answer lies in what you are trying to accomplish .Some people grade cards simply because it encapsulates them in a nice holder that protects the card for life. Others have high quality standards for the cards they own and want these standards documented.   Some people who sell baseball cards want to increase their value.I have bought single cards and sometimes sets of cards simply because I saw some hidden value in the purchase.
It is very possible to buy a card for $100, pay a fee of less than $30 to have it graded by a baseball card grading company and increase its value by a large margin. You need to know what to look for and more importantly perhaps find a seller who does not know what to look for.  I once bought a 1968 Topps Baseball set on eBay for $1400 and sold 75 graded cards from the set for over $5000, many of which were not big stars, but commons that were in high demand among those who collect completely graded sets.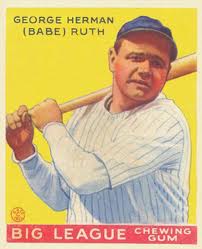 When debating about having a card subitted for grading and authentication, it is very important to know how to pregrade a card yourself and to be honest about its qualities. You should have a goal in mind for the card before you send it.A potential grade of PSA 4 would be more than enough reason to send a raw 1933 Goudey of Babe Ruth for grading.  A 1954 Topps rookie card of  Henry Aaron would require a much higher grade to make it profitable to send for grading.  You need to determine how much value the grading process will add to the card and weigh this against the amount of money it costs to have the card graded.  This, of course, is both an objective and subjective assessment.Review company grading standards thoroughly and know it is better to err on the side of caution.
Authentication, proof of no alterations and an independent third party arbitrator on condition are all important qualities offered by the baseball card grading company of your choice, but it is best to do your homework by contacting dealers and collectors who have experience in this potentially profitable arena.
Click here
to see graded sports cards on eBay.