Fans of the NFL who want to grab a piece of history for a reasonable price still might opt for vintage Super Bowl pennants. Once the item every football fan had on his or her wall,  pennants fell a bit out of favor with collectors, which is a bit hard to understand, but some of the early banners are rare and worth several hundred dollars.
The pennant was once a staple of every kid's bedroom.  You just might have some very fond memories searching in stores for your favorite team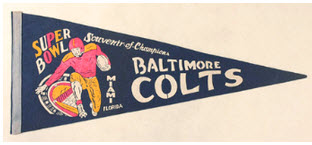 pennant. Perhaps you went through a Sears or other department store catalogue and ordered online like I did.  Many of us, myself included, would put every single team pennant on a wall that you could find. You might even put the bad guys(whoever that was for you) up just to have the majority of the NFL teams. It was like collecting those miniature NFL team helmets-you had to have every single one if you could.
Today, vintage Super Bowl pennants are highly collectible and some are quite valuable. Super Bowl pennants are typically different from regular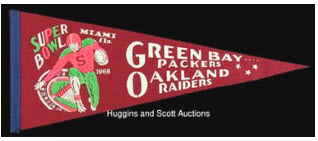 team pennants in that the year of the Super Bowl and usually the location is mentioned. Some are generic pennants while others were made for specific teams.
There is also a plethora of pennants available that just recognize the specific Super Bowl, loc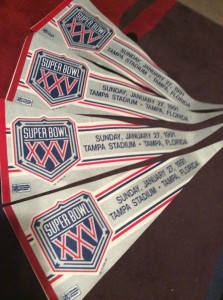 ation and two teams. For example, the 1991 Giants-Bills Super Bowl 25 was played in Tampa and a pennant is very traditional but still commemorates the game. Fans who went to the game as a neutral fan might want to add a general pennant like that to their collection.
Generally, the earlier the Super Bowl pennant, the more valuable it is.  However, value tends to be more aligned with scarcity than anything else.  A rare pennant from Super Bowl II sold for over $5,000 via Huggins and Scott Auctions in 2014.  A Super Bowl V Colts pennant went for nearly $700 in 2013 via Hunt Auctions.  Yet other, more common pennants from the 1970s and up can often be found for under $50.
Condition plays a major factor.  Pennants with wrinkles, holes, stains or other problems will not sell for nearly as much as higher grade examples.
Pennants sold at the game site are usually more valuable than those that may have been available in a store or via mail order.
The pennants are usually bright, colorful and represent the team colors during that

particular era. For example, a Miami Dolphins Super Bowl VI pennant contains the same colors of today but with a 70's era type of printing style.

Pennants are usually carefully designed but still markedly different from year to year. The incredible thing about collecting pennants is the vast amount of variety you'll encounter following your favorite team from your to year and era to era.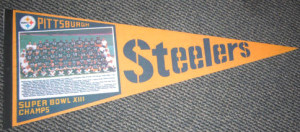 Some vintage Super Bowl pennants go as far to include a team picture to commemorate the title like the Super Bowl XIII champion Pittsburgh Steelers. This one is available for $75. Imagine hoisting this trophy on your wall or adding it to an already impressive Steel Curtain collection.
S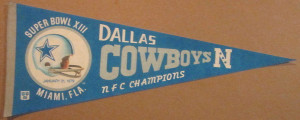 ince teams like the Dallas Cowboys and Steelers were involved in more Super Bowls during the "pennant heavy" eras, there are way more available to purchase. The Cowboys during the Tom Landry era seem to have an abundance of pennants floating around in online auctions despite the crazed fan base unwilling to part with such items.
Despite the strong prices paid for some of them, vintage Super Bowl pennants remain a relatively affordable option for collectors.  It's inevitable that given the cyclical nature of the collecting world that pennants will once again surge to the forefront in the memorabilia world. Between now and then, collectors can revisit those golden times by keeping that era alive with some of the coolest decorations ever to hit a bedroom wall.
To see Super Bowl pennants on eBay, click here.