The 1980 Topps Rickey Henderson rookie card sort of marked the end of an era.  In 1981, Topps' long-running monopoly had ended and the days of multiple licensed trading card manufacturers had come to Major League Baseball.  Rickey was a star, almost from the very beginning, but who knew he'd play into his 40's and become perhaps the best lead-off hitter of all-time and the game's greatest base stealer?
It was in the late 80's. Rickey was at the tail end of his career-- or so I thought at the time. My estimation was only off by about 14 years or so.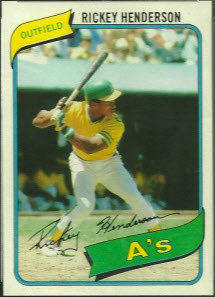 He was looking like a pretty good bet for the Hall of Fame after putting up some mind boggling numbers during his first decade as a pro. Henderson, who had played with Oakland and the New York Yankees at that point, wasn't my favorite player by any means. It wasn't anything to do with his off or on the field play. I just didn't see the American League that often so it was one of those out of sight-out of mind things. I knew the Yankees meant added value to any player but it didn't seem significant enough to me to hold on to the card.
At the time, Henderson was swiping bags like they were going out of style. He had 93 more swipes in 1988 adding to his already impressive career total. Surely he'd burn out. Speed doesn't last, right?
I had a shiny 1980 Topps Ricky Henderson rookie card in my collection. At that time, I believe it was the crown jewel of my collection. It was in great shape-especially compared to the other cards of that era that I probably put between my bicycle spokes as a ten year old. Maybe I built forts with them and blew them up with firecrackers. That's the kind of things kids did back then-particularly before people began to realize these cards were potentially going to be worth some dough.
A friend of mine was always trying to take advantage of my love for new rookies and the prospects of getting that one "card" that ends up being the prize of the collection. At the time, there was a young kid coming up named Barry Bonds. You may have heard of him. Or by now you may have vaporized him from your memory for that whole "steroid era" contribution.
Little was I aware of any mass production of baseball cards around that time. I had this crazy idea that Bonds would end up being the best baseball player of all time. Call it a massive case of tunnel vision. He had speed and strength. He didn't play on a coveted team like the Yankees or Dodgers but there was still this aura surrounding Bonds. Maybe it was because his dad already set the precedent that a "Bonds" was a great baseball player.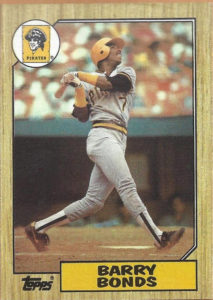 The speculation was pretty high on Bonds.  Beckett Magazine did stories on him and that was all the evidence I needed as a young teenager.
I remember sitting on the porch of my friend on a hot summer day. We all have memories like this of baseball card trading back in the day. You pass your friend your book and he gives you his. You thumb through the vinyl pages trying to find the card you are interested in without bending the edges. You'd try to slide the cards out without damaging them because you had this gut feeling these cards were going to multiply in value before you rode your bike back home. Terry was my friend. But on this day, maybe he wasn't. I unloaded my 1980 Topps Rickey Henderson rookie card for the 1987 Topps Barry Bonds rookie card-straight up. I didn't even make him throw a player to be named later in.
I was so into the speculation that I didn't see the value of keeping an older card sporting a guy with a pretty impressive Major League start. Unfortunately, I was right in one aspect. Bonds became one of the best players to ever play the game. At least that's what appeared to happen before the whole "steroids" and "performance enhancing drugs" era hit. Without throwing that one tiny factor in the mix, maybe it was a pretty awesome straight up trade. But you can't ignore that era and the baseball card collecting market certainly doesn't either.
A mint, graded Henderson rookie now sells for north of $400.  Even an ungraded, nicer example brings close to $100 (see Henderson rookies on eBay here.  There are several Bonds rookie cards and millions of each were printed.  Graded, gem mint examples bring good money, but the long term outlook isn't good and the ungraded cards like the 1987 Topps I now own are worth about two bucks--maximum (see Barry's rookie cards here).
As it turned out, this was just a lesson I learned about the unpredictable nature of speculation. Speculation in baseball card collecting is like watching the grass grow in the summer. It can grow a ton but all it takes is one little drought to wipe it out completely. The funny thing about the lessons you learn with baseball card trading is that sometimes you don't really comprehend who won until 2 or 3 decades later. I won initially but my friend Terry won over the long haul for various reasons. Nobody tells you or could ever explain to a young man that baseball card trading is subject to such change. But that's also the absolute beauty of it.