It's rare a player gets in the Hall of Fame younger than 40. Most players on the Baseball Writers Association of America's ballot for Cooperstown this year are in their 40s or 50s. And players passed over by the BBWAA can routinely be found campaigning into their 60's and 70's.
It's weird to think that any of these men were ever young. For an exercise in surrealism, here are the rookie cards of five of the best players who aren't enshrined. We'll restrict this to players not currently on the writers ballot or those who recently exhausted their eligibility, since those men have been discussed ad nauseam over the past month.
Here are five players we'll consider today.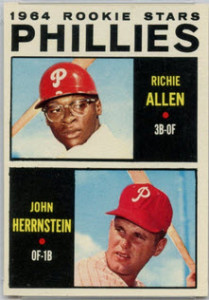 Dick Allen, 1964 Topps:  Not counting players currently on the ballot or the ineligible Pete Rose and Shoeless Joe Jackson, Allen might be the best player not in the Hall of Fame. We see signs here of the things that doomed his candidacy, such as the nickname Richie, which he loathed. Philadelphia press used it derisively on him, and unfortunately for Allen's Cooperstown chances, he took the bait.
Former teammates and others have been vouching for Allen's character in recent years, trying to counter the words of people like Bill James who say Allen ranks among the biggest clubhouse cancers in baseball history. At some point if Allen's image is fully rehabilitated, he may get his plaque.   Prices for his rookie card vary a lot based on grade, but a search of eBay shows you can own a very nice near mint example for around $20-25.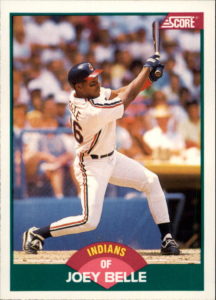 Albert Belle, 1989 Score:   Same as Allen, Belle had a different first name early in his career. Same as Allen, he had character issues that would doom his candidacy. If there's a common theme among good players who get passed over for the Hall of Fame, it's often this. Like Allen, Belle's rookie card hints at what went awry for him with Hall of Fame voters.  They're dirt cheap.
Belle went to rehab for alcohol abuse in 1990 and emerged as Albert. It's been a long time since voters looked at his Hall of Fame case, with Belle lasting just two go's on the ballot. It's been longer since anyone called him Joey.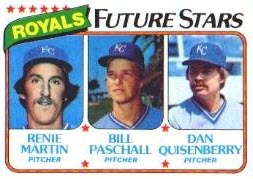 Dan Quisenberry, 1980 Topps:   In a better world, Quisenberry and not Lee Smith would have been the former relief ace garnering strong support from the BBWAA over the past decade and heading toward inevitable induction.
Smith has gotten over 50 percent of the Hall of Fame vote multiple years. Not counting players currently on the ballot, just two men who've received more than 50 percent of the vote aren't enshrined: Gil Hodges and Jack Morris. With a shorter career, Quisenberry has nowhere near the save totals of Smith. Quisenberry only appeared on the ballot for Cooperstown once in 1998 and faces long odds of ever being enshrined. But for peak value, he might be the best closer of the 1980s.
He has a fun rookie card, too. Quiz looks nothing like a conventional baseball player here, which was always part of his charm.  Certainly worth picking up when they're only a buck or two.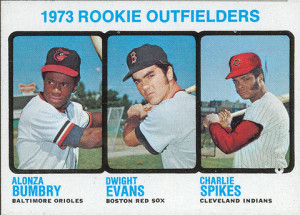 Dwight Evans, 1973 Topps:   Evans grew a mustache mid-career and, as others like Bill James have noted, had most of his best seasons in his 30s. Thus, it's a little strange to see him as a young, clean-shaven player who was good for about 13 home runs per year and was overshadowed by teammates Fred Lynn, Jim Rice, and Carl Yastrzemski. Maybe Hall of Fame voters still had this picture of Evans when they quickly rejected him.  His rookie card is in the high number series and a little hard to fight in high-grade.  That's why you'll pay at least $20-25 for a decent one, much more for near mint-mint, graded examples.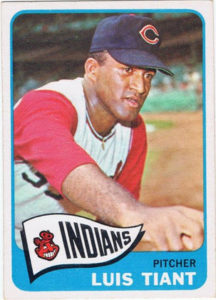 Luis Tiant, 1965 Topps:  The popular image of Tiant, at least the one I have, is of him as a portly, mustached ace for the Boston Red Sox in the 1970s. If he ever gets in Cooperstown, this is surely the face that will be on his Hall of Fame bust. How many people will remember that he started off as a young, skinny pitcher for the Cleveland Indians?   Again, prices vary depending on condition, but you can grab a pretty nice one for $10-20 on eBay.
That's part of the fun, in general, of looking at rookie cards for Hall of Fame candidates. We get pictures we may have forgotten, whether it's mustached Curt Schilling on the Baltimore Orioles, Jheri curled Sammy Sosa on the Texas Rangers, or the recently-inducted Randy Johnson, same mullet as ever, on the Montreal Expos.
Related: