Roger Maris would have turned 80 on Wednesday.  These days, Maris is revered far more in memory then he ever was as a player; sort of a heroic, but tragic figure who in the eyes of many fans, should still be credited as the single-season home run champion.  Roger Maris baseball cards remain very popular with collectors and fans for a variety of reasons, from his place in history to his throwback nature to having simply worn Yankee pinstripes during a remarkable period.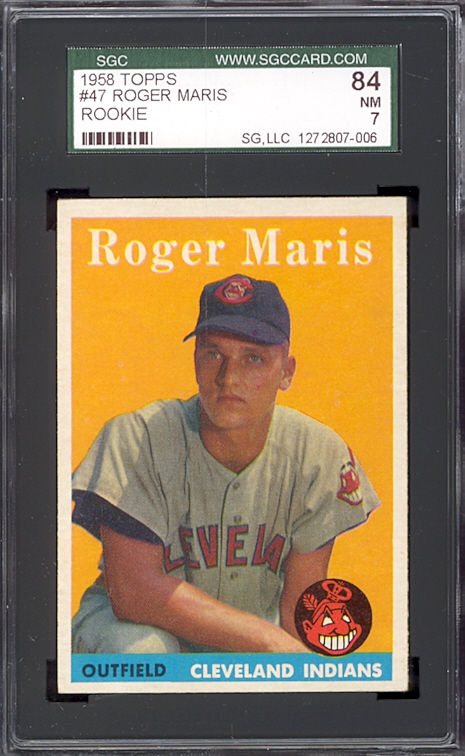 The 1958 Roger Maris rookie card is the second most valuable card in that set, behind Mantle.  Not yet a Yankee, he's pictured as a member of the Cleveland Indians.  A graded, nm-mt example is valued at $1,000-1,100 according to recent eBay sales.  A '7' will set you back $400-500 while VG type examples can still be had for $100 or less.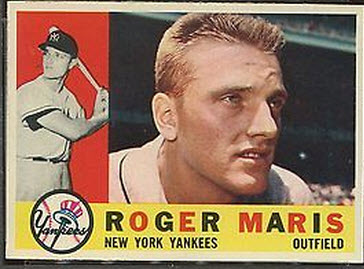 By 1960, Maris is a Yankee and gets a horizontal image as well as an All-Star card in the high number series.  The regular issue card, which was quickly edited to reflect his trade to New York and still includes images of him in his Kansas City uniform, is one of his nicest looking cards you can find for sale.
The 1961 Topps is popular because, of course, it's the year of the home run chase.  He's actually pictured on three solo cards, the regular issue (#2) , the Sporting All-Star (#576) and an MVP card (#476) as well as the Home Run Leaders card.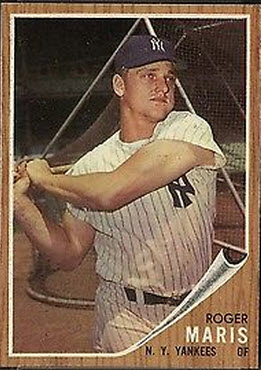 Maris appears on several cards in 1962 as Topps chronicles his achievements from the historic season before.  He moves up from card #2 to #1 and that combined with the wood-grain borders have made '62 notoriously tough for condition-conscious collectors.  His regular issue card in a PSA 8 holder  will cost you $1,800 and up.  Even a '6' runs north of $300.
Maris was a person who was thrown into a situation none of us would probably be able to handle and with his background, did the best he could but was not ready for the attention he received in the summer of 1961. It is hard to imagine he and fellow teammate Mickey Mantle were both challenging for the single-season home run record held at that time by Babe Ruth who had blasted 60 homers way back in 1927.
Unlike Mantle, who had ten years of playing in the New York spotlight and was ready to handle the press assault, Maris had little of that training having grown up in North Dakota and then spending his first few major league seasons in Cleveland and Kansas City. None of those places had the media scrutiny New York did then or now.  Maris' shy nature didn't help and he didn't help himself by often acting gruff around the sportswriters of the day.
Maris was actually a fine all-around player.  He had good speed, a great arm and was a defensive whiz in right field. In addition, his swing was made for Yankee Stadium and with the influx of expansion pitching in 1961, he was in a position to have his finest offensive season.  He turned 27 in September and according to most sabrmetricians, that is the age where a player hits his career peak.  All of those things helped to bring Maris to a milestone season which was actually just a follow up to an even more brilliant 1960 when he was named American League MVP.
While he never was able to recapture the full magic of his 61 in '61 season, he continued to be a decent major league player until injuries decimated his final two Yankees seasons in 1965 and 1966. Traded to the St, Louis Cardinals for a journeyman player named Charley Smith, he was the starting right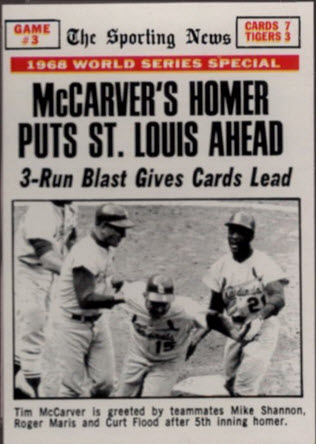 fielder and stabilizing force for the Cardinals who would win a World Series in 1967 and the NL pennant in 1968.
Maris retired after the 1968 season and became a successful businessman, working as a Budweiser distributor until he died of cancer late in 1985.   The best thing about Maris's card career was Topps tracked him very well from 1958 through 1968 and there is even a cameo on a 1969 Topps '68 World Series card.  Maris did live long enough to autograph a lot of his Topps and Post Cereal cards during and after his career and those, too, are highly sought after.
Even though he'll likely never be elected to the Hall of Fame, Maris is certainly treated like a Hall of Famer by collectors.  It's too bad he's not here to appreciate what the world thinks of him now.