When storing a piece of sports memorabilia such as an autographed football, the optimum solution is to invest in a display case. A display case allows the football to be kept in view while protecting it from handling, dust buildup, UV exposure, and other sources of damage.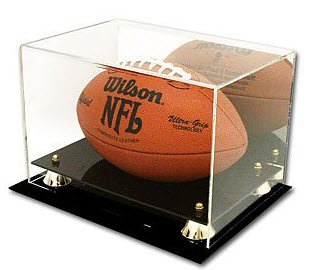 Listed below are some recommended cases along with information about choosing the right case to meet your needs.  Click the links to order.
Glass Football Display Case  
Display cases are typically made from either acrylic or glass. Glass cases, such as the Glass Football Display Case from Steiner Sports, are sometimes favored for their appearance in comparison to acrylic cases, though they do come with a higher price tag.
Ballqube Grandstand UV Protective Football Qube 
Acrylic cases, such as the Grandstand UV Protective Football Qube from Ballqube, are often cheaper in comparison to glass cases, but their quality is far from lacking. Acrylic cases can be found for significantly less than at sports stores. This is a budget model that isn't fancy but will protect your football.  These can be stacked if you have more than one.
Glass Football Octagon Display Case with Cherry Wood Molding  
Whatever the material, the most important quality to look for in a display case is UV protection. Exposure to UV light will create irreparable damage to collectibles, causing them to fade, become discolored, and appear worn. In the case of autographed footballs, UV damage can fade a signature so that it is unreadable, and it can even fade out a signature entirely. Proper protection against UV rays therefor is important, and this attractive Glass Octagon Display Case from Amazon has it.
Golden Classic Football Case 
While glass is an effective material for display cases and offers a very attractive look,  acrylic is the superior choice when it comes to UV protection. The UV protection is mixed in with the acrylic during manufacturing, making it more durable and increasing its life expectancy, while the UV protection is applied to the top of the glass post-production, exposing it to more of the sunlight and shortening its lifespan. This Golden Classic Football Case offers 70% UV protection, which is sufficient provided the football is displayed where it will not receive any direct sunlight.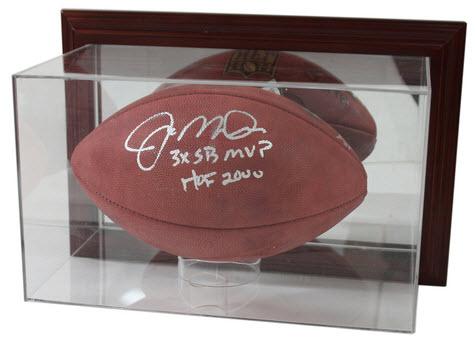 Another lower priced option, this acrylic holder offers a raised platform with some gold risers to show off the football.  A nice-looking, inexpensive option with excellent UV protection.
Acrylic Wall Mountable Football Case 
If you'd rather display your football on the wall, this Steiner Sports option is a great choice.  You'll pay more but with a mirrored bottom and cherry wood base, it looks great. The top easily pops off.
You can see dozens of other cases,including some that hold two footballs 
here
.