It's easy to get discouraged about your hobby. All you have to do is read about the record-breaking' prices attained by some vintage baseball cards or game worn jerseys.  But you really don't have to be independently wealthy to build your own little rare sports memorabilia collection. In fact, it's a lot cheaper than you might think.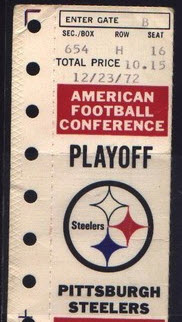 There are plenty of options to get involved in something other than run-of-the-mill collecting. You can build a collection for yourself, to show off at your office or one to start for a youngster who will appreciate tangible pieces of sports history now or when they're older.
Whether you're buying or browsing, shopping online offers the opportunity to investigate the incredible breadth of sports memorabilia available. In the Vintage Sports Memorabilia category on eBay, search by lowest priced first via this link and you'll see a wide variety of items available that won't cost you a week's pay.  You'll see a variety of directions you could take for your sports memorabilia collection based on the items available and going prices.
A few options for sports collectibles that are not always expensive but provide plenty of history include some of the items below.  Click the links to see those items on eBay.
Old ticket stubs.

You can buy stubs or even full tickets for regular season games dating back decades for less than $20, unless they are associated with an historic moment. What's fun is to research the particular game for which the stub is being offered and find out what happened. Did a Hall of Famer hit a home run or pass a milestone? Even if not, you've got a conversation piece. NFL and MLB stubs are plentiful, but you won't find as many collectors as you will for vintage sports cards of the same era.
Team yearbooks

are also a very collectible piece of sports memorabilia that aren't expensive. MLB team yearbooks, even in great shape and dating back to the 1950s, can be had for less than $50 in most cases and often times much less. They're great fun to look at, display well and are easy to store.
Pocket schedules 

have been handed out for generations. Colorful and rare (who saved them after the season?), they're another item that won't take up much space and can often be purchased for less than $20 from eras long since past. Some picture players or team broadcasters.
World Series and All Star game programs, NFL game programs and college football programs

are also reasonably priced. College football programs in particular, often feature incredible cover art with fascinating content. You can collect one program from each year of a particular school. World Series programs are a little more plentiful than All Star game programs because of the number of games played, but even programs from the 1940s can often be found for less than $150. Make sure they're intact and not falling apart.
It's not possible to buy mint condition

Babe Ruth baseball cards

for $100 these days, but lower grade Ruth cards such as his 1933 and 1934 Goudey cards can be found for less than $2,000 in reasonably good condition and there are

other issues that can be had for even less

such as Sanella, African Tobacco, 1948 Leaf or Kashin. You might consider other vintage baseball cards in mid-to-low grade, maybe buying one from each of your favorite sets or focusing on a specific player.
Right now,

NFL Hall of Fame rookie cards

are popular with certain groups of collectors, but compared with their baseball counterparts, they're relatively inexpensive. The same goes for NBA and NHL rookies.
nother option for continuing your search for rare sports collectibles and memorabilia are vintage

sports photographs

. While increasing in popularity and value in recent years, it's still not difficult to find very unique, often one-of-a-kind wire photos or those from photographers of the day for less than $20. Easy to store and display, they're a great way to recall the history of the games and the personalities which forged our interest in them.  Look for news photos with newspaper date stampings on the back to capture a moment in history.
These are just a few examples of sports collecting genres that might send you in the right direction as you browse the listings here on the Sports Collectors Store website, but there are many more. That's the great thing about the hobby. There are no rules when it comes to building your collection.