For a Major League Baseball collector, there are several autographs that could be considered a "holy grail" of an individual collection. The same can be said for those who pursue signatures from the National Football League. However, the "holy grail" signed basketball memorabilia is an obvious choice. Michael Jordan, the often celebrated best player in the history of the league, is the signature that is the most coveted. Sure-current players like Kobe Bryant or legends like Wilt Chamberlain are also a very appealing autograph for individual collectors. But the list begins and ends with His Airness.
The autograph of the Chicago Bulls Hall of Famer can turn an ordinary card into a quite expensive one. A 1986 Fleer rookie card, featuring Jordan well on his way to an artistic slam dunk, is one of the more popular items.  A couple of them are on eBay,  with a certification of authenticity from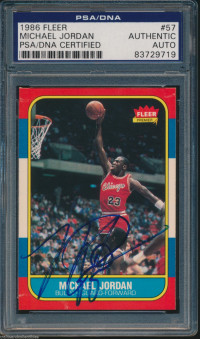 PSA/DNA to ensure the signature is legitimate from #23 himself. No other basketball player in the history of the league has commanded this much attention or dollars. Just last year a Michael Jordan diploma and recruiting letter from North Carolina went for $50,000.
Jordan signed memorabilia isn't impossible to come by these days-whether it's a jersey, cards, paintings or even an autographed basketball.  He has an autograph contract with Upper Deck and signs privately for them on a fairly regular, although not frequent basis.  You can purchase Jordan signed items for $600 and up, depending on the item.  If you want to go the cheaper route, Jordan has signed a lot of cards for Upper Deck in the last few years, many of which feature him as a North Carolina Tarheel and can be purchased for under $350.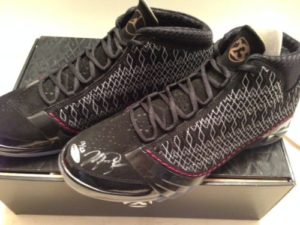 or fans wanting to get a little closer to the legendary Jordan, maybe a signed pair of his size 14 shoes would do the trick. These aren't the types of shoes you'd want to lace up and wear to play a game of hoops in. They're a Jordan style shoe like the kind he once wore on the court. Authenticated by Upper Deck and limited to 23, a Michael Jordan "John Hancock" rests on the toe.
As always, speculation around new players certainly continues to put heavy weight on the rise in cost from the younger generation. In fact, some of that speculation is helping players like LeBron James and Kevin Durant see their stock rise exponentially. The emphasis is certainly on James these days as the so-called "torch" gets passed off in the eyes of some. Much like on the actual hardwood, James is putting up Jordan type numbers in the collecting world.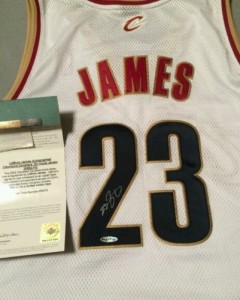 You can buy UDA James jerseys for $700-$2,000, depending upon the quantity produced.
Durant items aren't catching the buzz that James has quite yet but his cards are among the most popular.  Autographed Durant cards have been produced since his rookie season.  You can usually find one for $200 and up, again depending on the quantity produced.  Try to find one that has an 'on card' signature, rather than an autographed sticker placed on the card. Perhaps Durant still has even more upside than James considering he has yet to win his first championship.
There are still quite a few players who are on the verge of becoming well known names in the NBA besides James and Durant. Stephen Curry, Anthony Davis and Kyrie Irving are just some of the newer names with early buzz. Certainly there are college players to come that will also be added to the mix of hot commodities in the signature world.
With the transition to more of an international game, the autographs aren't just limited to players born in the United States, either. Players like Tony Parker, Manu Ginobili and Dirk Nowitzki have certainly led the way for international players making a splash in the autograph world. It certainly didn't hurt they've all been part of NBA championships.
Many retired players are also still quite coveted in the autograph world but are often easier to obtain. Julius Erving, Magic Johnson and Larry Bird are guys who will always command interest. But even retired greats like Wilt Chamberlain don't bring the dollars that a Michael Jordan can. Chamberlain has been dead for quite a while and his autograph is harder to find but the number of people who remember Wilt in his prime has dwindled some.  Despite his record-setting career, Chamberlain memorabilia still doesn't command what Jordan does.   That's something that is very unlikely to change until somebody passes Jordan in title rings. In other words, the "holy grail" of NBA autographs isn't going anywhere anytime soon.