The best basketball player of all time was the best thing to ever happen to basketball card collecting. There was a frenzy of interest in the 1980s as he began what most believe was the best overall basketball career to date. The prices of Michael Jordan sports cards haven't regressed even now that his last game as an NBA player was a long time ago.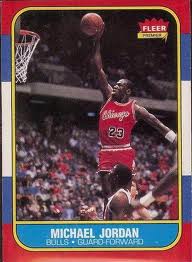 Jordan was a highly anticipated rookie. Not even an injury early in his career could slow down the momentum he was already building toward in his pro career, but it took a few seasons of frustration for Jordan to blossom and his basketball cards to skyrocket.
Jordan's first few years saw only a few cards produced.  During his rookie year, in fact, there was NO mainstream basketball card set issued.  In 1984-85 the Star Company basketball set including Jordan but they were not available in wax packs, only in set form.  In 1986-87, Fleer acquired the NBA trading card license and Jordan was one of the stars in the red, white and blue-bordered set.  They generated barely a ripple at the time.   Those who stuck them away were rewarded.  In the early 1990s, basketball cards began to take off.  Vintage cards rose in value and as Jordan began winning championships, the rush for 1986-87 Fleer was on.  Leftover cases and boxes dried up and are now extremely valuable.   Even in the last few years, for no apparent reason other than demand, the value of the Michael Jordan rookie card has risen dramatically.
During his early years with the Chicago Bulls, Jordan was on his way to becoming the most well-known athlete on the planet.  Larry Bird and Magic Johnson were enjoying their rivalry too and as the NBA took off, so did basketball card collecting.  After years of playing second fiddle to baseball and football cards, collectors began to appreciate hoops too.  Michael Jordan sports cards were elevating in the same fashion that MJ was on the basketball court.
Now that Jordan has been retired for several years, replaced by the likes of LeBron James and other stars in the basketball world, his rookie cards have remained atop the heap.  He is still among the 'most searched' terms on eBay.
And it still might not be a bad time to invest.
Iconic cards from the legends of sport like Babe Ruth, Ty Cobb, Mickey Mantle, Walter Payton, Joe Montana and Wayne Gretzky have performed well over time.  In terms of collector interest today, no one comes close. Tops on the list has to be the Jordan rookie card.
Jordan appeared on multiple sets of cards as the NBA expanded its licensing agreements to Topps and Upper Deck during the 1990s.  He has some 1-of-1 autographed cards
in several hot Upper Deck products.  Those are prize finds and probably worth the investment.  His exclusive contract with Upper Deck has resulted in some high quality cards, even some Jordan baseball cards.
Multiple deals with McDonald's, Nike, Wheaties and other brands mean there are Jordan collectibles everywhere.  In fact, there's no doubt that there is more Michael Jordan stuff than for any other athlete who ever lived.
His "Airness" changed the hoops memorabilia world forever.   Just like the actual game of basketball, Jordan dominated.