Several years ago, a couple looking to use In Vitro to have a baby put a 1999 Donruss football card up for auction to raise funds for the process. Todd and Ula Nelkin were hoping to raise $20,000 with their auction. That's the kind of return on investment that makes investors drop their jaws at what  some of the best NFL autographs can be worth on the right item. That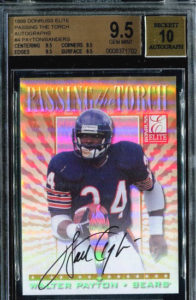 1999 Donruss card featured Barry Sanders on one side with Walter Payton on the other. Each player had signed the card, which was part of a special "Passing the Torch" subset randomly inserted into packs.
It was one of only 100 signed by both and as you can see from this listing, it's one of the more valuable NFL autographed  insert cards ever produced.
It goes to show that a signature is still a picture that is worth a thousand words..err..dollars. In this case, the dual signature of Payton, now deceased, and Sanders is priceless to some collectors.
When an NFL player is already locked into the Hall of Fame or destined to move into that legendary spot, the price tag even ascends. But there is more to the story than just a return on investment. The sentimental value is also something that can't be bought or replaced with money.
Collectors aren't just limited to your ordinary Joe or those trying to raise money for their first child. Recent baseball Hall of Fame inductee Craig Biggio told MLB.com that Payton was also his hero growing up. Biggio says his memorabilia includes a game-worn jersey from Payton that he does "treasure."
Chances are Biggio isn't departing with his beloved Payton jersey anytime soon. Just imagine what the worth of the game used jersey would skyrocket to if Biggio has a Walter Payton autograph on it. No word on whether it is signed or not.
Want proof that a Walter Payton autograph is still in high demand these days?  Consider that before he died, Payton agreed to sign thousands of items for Steiner Sports, to be sure there were enough in the marketplace for his fans in the years following his death.  Despite that, you'll still pay a significant amount for a Payton autographed helmet, a custom framed jersey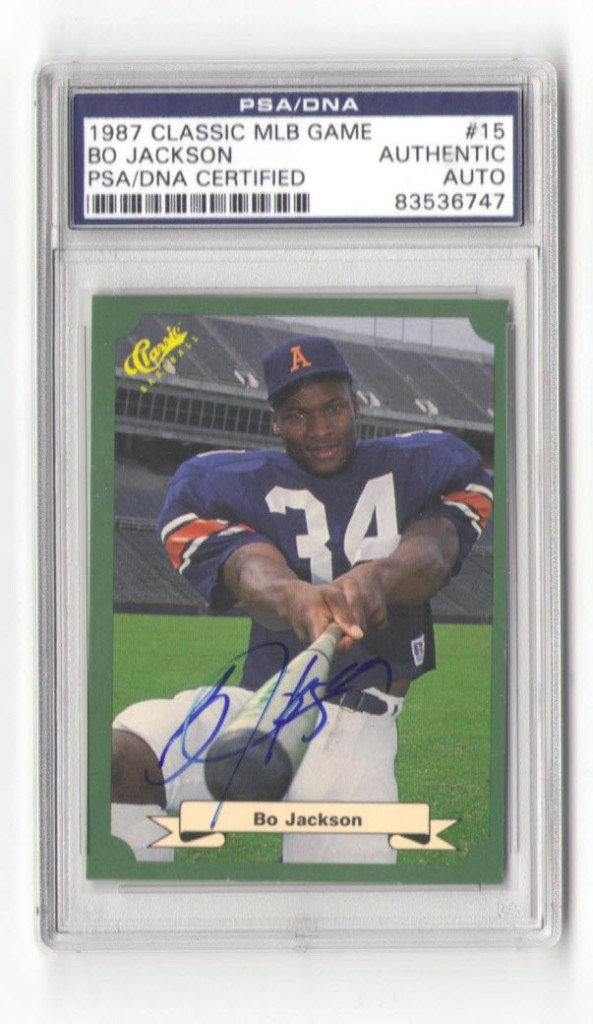 with inscriptions or even a 1986 Topps Chicago Bears team set with every card, including the Payton, autographed.
Biggio, playing pro sports, obviously has connections the regular fan does not. For your average sports collector, getting an autograph can be tough depending on which athlete you'd like to add to your list.
For the average fan, some autographs are simply harder to obtain than others. Bo Jackson, for example. reportedly made fans promise they weren't going to sell autographed memorabilia while he signed.  Back in the 1990s, he was known for tossing fan mail in the trash if it was sent to one of his homes, which he considered a place just to be an average guy.
When Bo was on top of his game with the Oakland Raiders, he was compared by former teammates as a "Mick Jagger" type when it came to signing autographs. He was often mobbed by fans. He was once asked during a flight by the pilots for an autograph prompting a teammate to ask who was flying the plane. It was on automatic.
He probably doesn't endure the same treatment these days but it's safe to say everyone still is aware that "Bo knows."  Jackson was hugely popular, especially with young fans and collectors in the mid to late 1980s and he's signed thousands of very nice looking baseball and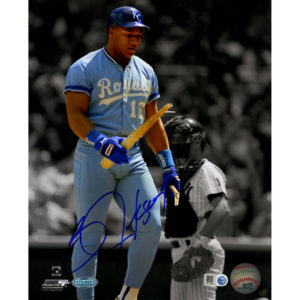 football cards for trading card companies, making his autograph now much easier to get, especially on eBay.  He has also done private signings with sports memorabilia companies, where you can buy fully authenticated autographed items like the famous "broken bat over his knee" photo from his days with the Royals.  Prices vary depending on the item and size.
High profile Pro Football Hall of Fame autographs are generally the gold standard when it comes to memorabilia.  Super Bowl winning quarterbacks, rushing champions or great receivers are all popular as are some of the best defensive players.
A Joe Montana game-used, autographed and inscribed Kansas City Chiefs jersey was placed on the market for over $23,000, but Montana, too, has done his share of private signings and card shows since his playing days ended for there to be a fairly good number of autographed items available--many for under $200.
Fans who grew up watching him in the 1980s and 90s recall vivid memories of Jerry Rice catching those passes from Montana when both were with the 49ers.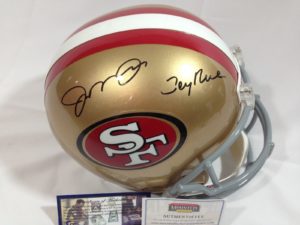 Rice signed items are also among the best NFL autographs to own, with his status as the game's greatest receiver of all-time not likely to be challenged anytime soon.  Prices vary, depending on the item, but something authenticated by PSA/DNA, Mounted Memories or other reputable authenticators is an easy score on eBay.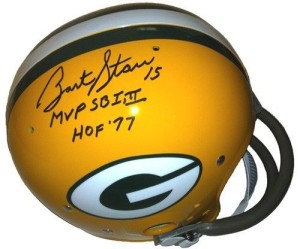 The player with perhaps the best looking NFL autograph of all-time is the MVP of Super Bowls I and II, Bart Starr.  The fan-friendly Green Bay Packers legend is now suffering from serious health problems and sadly, we may not see him sign much anymore.
Thankfully, there are quite a few beautiful Starr autographed items in the market, thanks to his many card show signings and promotional appearances.  His famous Ice Bowl sneak is a popular item but signed Starr footballs or helmets with that dual MVP inscription are hard to beat, too.
Of course, whether you're a fan or not, Tom Brady's fourth Super Bowl victory has vaulted him into some pretty elite company.  The demand for Brady is strong, but your best bet might be his autographed rookie cards.  You'll pay $600 and up--way up--for higher grade examples, with his Panini Contenders Rookie Ticket at the top of the list.
There are other Hall of Famers and potential future Hall of Famers to consider for a variety of reasons but the best NFL autographs are really those that are important to you, representing the players you like most.