Uncertain economic times can make it confusing for anyone looking for good investments.
Some people, especially those with an interest in collectibles, have turned to investing in sports memorabilia as an alternative. While they are no sure thing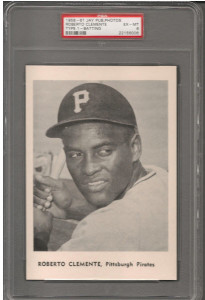 either, the return on an investment in high grade baseball cards and rare sports memorabilia has generally been very good, in spite of mainstream media accounts of the 'death of the baseball card'.
In fact, nothing could be further from the truth when it comes to true rarities in the sports collectibles arena. Carefully selecting
vintage cards
and other popular pieces can result in impressive returns.  Early original Babe Ruth cards have skyrocketed in value just in the last several years.  Always sought after, the limited number of cards like the 1916 M101-4 and M101-5,  have led to bidding wars.  For the smaller investor, there are opportunities in some lesser known Ruth cards, however.  Most all have appreciated in value from where they were five or ten years ago.
High grade, vintage cards of Hall of Famers and iconic players like Lou Gehrig, Mickey Mantle, Hank Aaron, Roberto Clemente and Sandy Koufax have done well, also.
Three factors are important to keep in mind when buying
sports cards
and memorabilia for investment:
*Quality

*Scarcity

*Subject Matter
A good piece of advice is to buy the best you can afford. If there are three 1951 Bowman Mickey Mantle rookies available, the highest graded cards are always in the highest demand and therefore will increase in value at the best rate. Since it's unlikely many more will ever emerge, you'll always be assured of having the best of the best which is never a bad position to be in. A mint ticket stub from Don Larsen's perfect game will always be appreciated by collectors-and appreciate in value as time goes on. If you're not able to afford five or six-figure items, keep quality in mind when shopping for lower priced items too.
Like anything, it's best to do one's homework before making purchases. Opportunities abound with the growth of auction companies, which show off virtually every high end sports collectible you can imagine.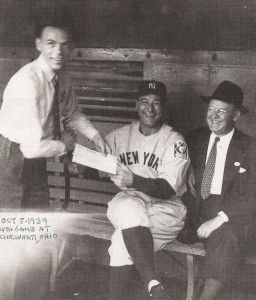 It's  important to be aware of what items are truly scarce. If only a few high grade copies of a particular card exist-- or if there is a vintage baseball photograph that is one of kind-- you're likely to see a higher rate of return based on the eternal laws of supply and demand.
Focus on a subject matter that's of universal, lasting interest. Baseball memorabilia typically is most popular. While other sports collectibles, especially football, can also appreciate over time, baseball is the focal point of the sports memorabilia industry because of the appreciation for the game's history shared by so many fans and collectors. But the most popular athletes or teams in any sport; Babe Ruth, Lou Gehrig, Roger Maris, Joe Montana, Joe Namath and others are exceptionally popular and there are thousands of people who collect memorabilia related to their careers. Love them or hate them, the New York Yankees and Boston Red Sox have legions and fans and followers wanting a piece of vintage team memorabilia.
You can learn about iconic players in baseball on Baseball Card Investment.   Another site specializes in reports on Vintage Graded Football Cards.  Basketball, with its universal appeal, could be a diamond in the long-term rough.  You can read about the best vintage basketball cards and go the high grade vintage route or stick with Michael Jordan cards or LeBron James rookie cards.
Sports authentication companies like SGC, PSA, MEARS and Beckett Grading have made shopping for high dollar rare sports memorabilia a little easier. Using experts in the field, the companies will assign grades to cards, ticket stubs, photographs, autographs, uniforms and photographs and authenticate them. While it's true they do make the occasional mistake, for the most part they are trusted and provide a level of security for rare sports memorabilia collectors and investors.
For an idea of what's hot in baseball cards, you can monitor the "most watched list" of hottest baseball cards on eBay.  Many times it will include vintage cards that are being chased by collectors and investors such as Ruth, Gehrig, Mantle, Robinson and others.
As an investor, it would be wise to consider purchasing authenticated sports cards and memorabilia in high grade. While you'll pay more, you'll also have an easier time selling and likely earn more money.