Not many of us have an unlimited budget when it comes to our hobby.  That's why such things are known as 'non-essential' and part of our 'discretionary income' decisions.  Ah, but once a collector, always a collector and finding discount vintage baseball cards will help you feel like a high roller.  You'll get more for your buck and still get some great stuff.  So how do you do it?  Here are some tips.
-Check out eBay listings that start under $1 and are about to close.  Starting a much more expensive card for eBay's minimum saves the seller money, but sometimes during that particular time frame, there aren't a lot of people looking for that particular card and only a couple of bids are placed.  If you can buy a $10 card for $1.50 that's a huge win for you.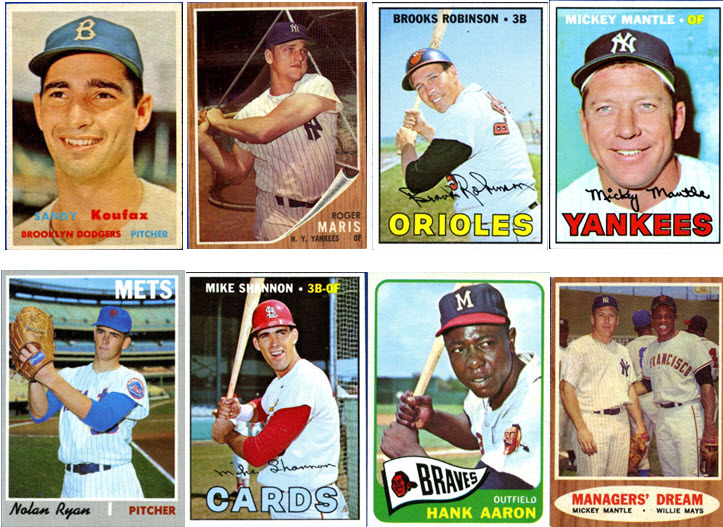 -Buy cards from sets that are in strong supply.  Would you believe PSA has graded 259,000 1961 Topps cards?  That's more than any other year.  That means there are a lot of graded cards in the market, a lot of competition and prices should be reasonable for all except the most popular stars or high numbers.  It likely also means there are a lot of ungraded cards available.   eBay shows over 60,000 for sale as of this writing.
It doesn't mean Mickey Mantle will be cheap, but many others should be.  1956, 1957,1959 and 1960 are also in pretty strong supply.  In the 60s, 1968 and '69 are prevalent while in the 70s, 1971, '72 and '75 are readily available.
-Don't shy away from graded cards.  Sometimes those 'PSA 6 or 7' examples sell for a song, especially common or minor star cards from the 1960s-80s and higher grades from the current era.  Even if you don't collect graded material, you can buy a card without any worry about condition and break it out of the slab if you want.  Right now, there are cards available for less than the grading fee.
-Look for lots.  On eBay, sellers will often sell large lots of cards.  Even if you can't use all of them, look for some gems in the lot, place your bid based on those and flip the rest for a profit.  You can sometimes get cards for nothing that way.
-Make friends with dealers.  If you're a repeat customer, many dealers will offer to send special discounts via email on a regular basis.  If you like the dealer and like his cards, rely on him to build your collection.
-Check newly listed Buy It Now cards.  It's worth seeing what's just been listed in whatever area you're looking.  Some people are anxious to sell and offer attractive Buy it Now prices.  Sometimes the early bird catches the rookie card.
-Don't focus strictly on Hall of Famers.  There are a lot of great baseball players or those who were involved in the history of the game in some way, whose cards aren't expensive because they don't have that "HOF" next to their name in the price guide.  Draw on your sense of history and snap them up for a song.  Here's a great list of articles that includes some stories about this very subject.