Giancarlo Stanton has flashed potential as a home run hitter since belting 22 as a 20-year-old in his 2010 rookie campaign. Since then he has been a four time National League All-Star for the Miami Marlins and led the league in home runs in 2014. He had accumulated over 260 career bombs at age 27, putting him on pace to join the 500 home run club.  All of that despite being hit the face with a pitch and suffering other injuries that have sometimes gotten in the way of his greatness.  His potential to make history have collectors scouting the best and hottest Giancarlo Stanton baseball cards.
The Significance of 50 and 60 Home Run Seasons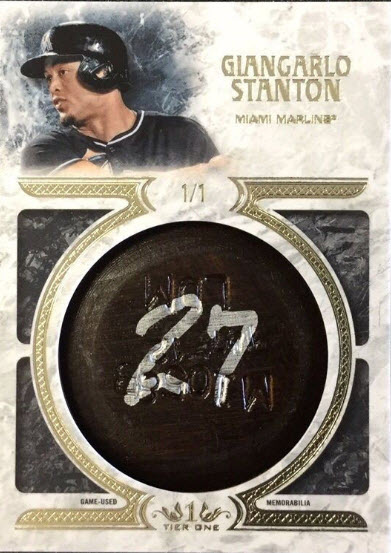 When Babe Ruth hit 50 home runs in his first full season as a position player in 1920 it was a number that had immediate significance, and another player did not achieve the mark until 1930 when Hack Wilson blasted 56. Over the next half century only a few of the greatest legends hit 50 or more in a season, including Jimmie Foxx, Willie Mays, and Mickey Mantle -- Hank Aaron never hit more than 47 and Ted Williams topped out at 43. During the so called PED era at least one player hit 50 or more home runs in all but two seasons between 1995 and 2007, which diminished the significance of the 50 home run season. In the decade that followed, during which stricter testing for PEDs was implemented, there was a 'return to normalcy' with only Jose Bautista (2010), Chris Davis (2013), and now Stanton (2017) hitting 50 or more.
In the 70-year period between 1928 and 1998 only Roger Maris of the New York Yankees hit 60 or more home runs. That was until a brief span between 1998 and 2001 when Mark McGwire (twice), Sosa (three times), and Bonds each accomplished the feat, but all have since been linked to PEDs - tarnishing their accomplishments. Should Stanton hit more than 61 home runs at some point in his career, some baseball purists will consider him the true single season home run king.
2008 Giancarlo "Mike" Stanton Prospect Cards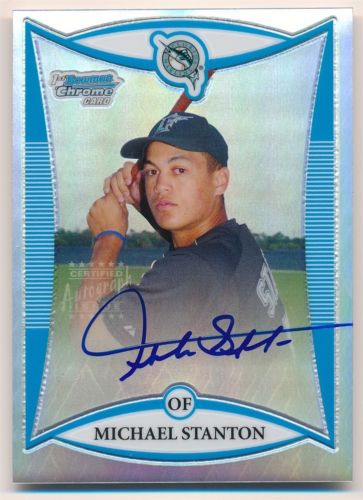 Stanton - then identified as 'Mike' - was a much heralded prospect in 2008 Bowman Chrome Draft Prospects. His home run potential made him in demand with prospectors, while his immediate success in the majors caused a steady demand for his cards over recent years. Combine that with his personality - that included a guest spot on the HBO show 'Ballers' - and going into the season his cards were already valuable.
In late May the ungraded base version of Giancarlo Stanton's Bowman Chrome card was selling for just over $100. By late July of 2017 the same card was approaching $200.  Now, they are selling over $300 - with graded BGS 9.5 examples rapidly approaching the $1,000 mark as the home runs continue. An orange refractor (#'d to 25) accepted a best offer below $3700, while a gold refractor (#'d to 50) sold for $2900.
As Stanton was hyped other manufacturers were eager to include him in their 2008 prospect themed sets. Panini included Stanton in Donruss Elite Extra Edition, Playoff Contenders, and Prime Cuts. Additional, Razor and Tristar issued cards of Stanton in 2008. Of these the Playoff Contenders autograph has been selling the best with graded examples now over $200, while the Donruss Elite Extra Edition is nearing that price point. A Playoff Contenders auto (#'d to 149) graded BGS 10 sold for $15,000 on August 16.
2010 Rookie Cards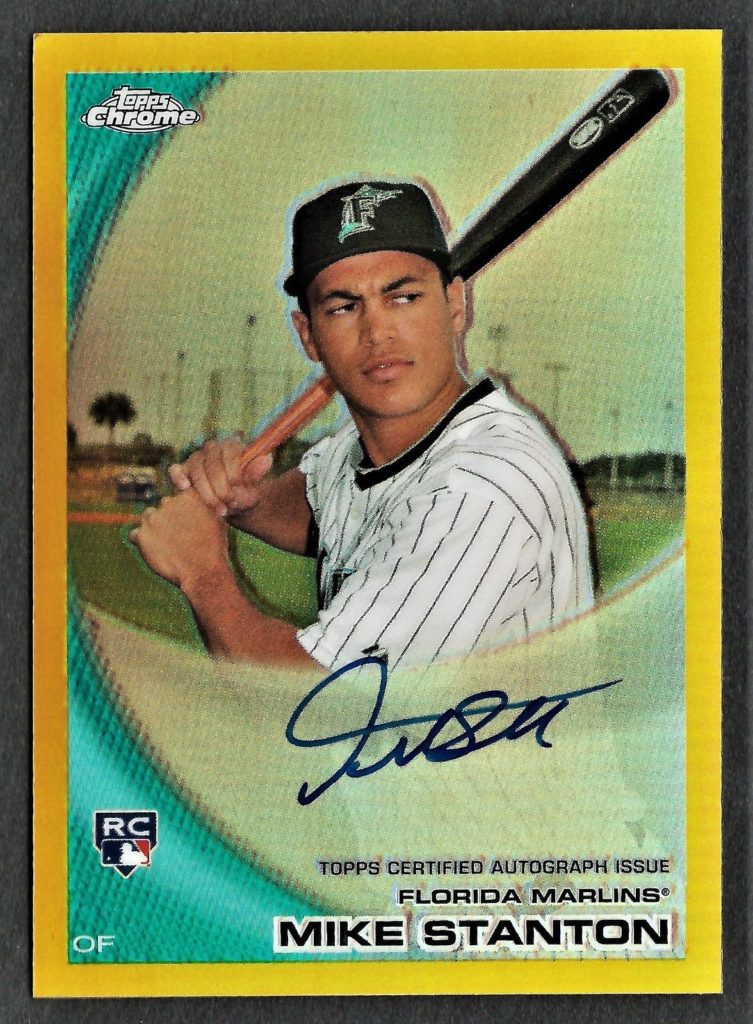 When Stanton made his professional debut in the second quarter of the 2010 season, Topps was quick to capitalize on his immediate popularity by inserting him including Chrome, Sterling, Triple Threads, Turkey Red, and Update. Of these the 2010 Topps Chrome auto and the 2010 Topps Triple Threads auto jersey are the most popular, with each recently selling multiple times in the $150 range ungraded. He was also included in that year's Bowman Chrome, Bowman Platinum, and Bowman Sterling. Of those, the 2010 Bowman Chrome Wrapper Redemption (#'d to 100) is selling particularly well, surpassing $1,000 in BGS 9.5.
Of course, there have been many popular issues since including 1/1 bat knob cards in higher end products and other low serial numbered autographs.
Here is a look at the most watched Giancarlo Stanton baseball cards on eBay.