Who are the best football autographs and why should you care? As a memorabilia collector it's always imperative to watch the football world to see who the up and coming stars are. Guessing who might someday add their name to a list of Pro Football Hall of Famers is quite a gamble early during a career. Getting an autograph with the intent of it one day being worth more money is based on speculation as much as it is "luck"--pun intended.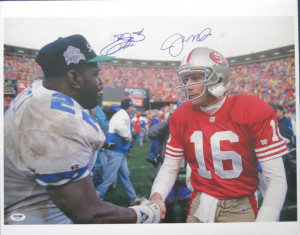 Some collectors simply want to make sure they're collecting players who will be remembered after their playing days are over.
With injuries, career derailment and even early retirement it's nearly impossible to project what a player will do at an early age. That's why many sports collectors believe the best football autographs to own are of the players who are already in the Hall of Fame and have already established their name and brand in the football world.
Players like Jerry Rice, Joe Montana, John Elway, Johnny Unitas, Dick Butkus, Walter Payton and Barry Sanders are always going to be among the most coveted. So how in the world do you choose among the up and coming players?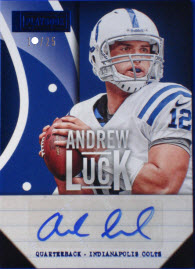 Here's a guide to what you might need to think about when seeking out an autograph for future value.
1) Quarterbacks, Running Backs and Wide Receivers Are Always Most Popular
The guys who touch the ball are almost always the autograph that the masses will seek out. The most well known NFL players are quarterbacks. Next up would be running backs followed perhaps by wide receivers. There are some exceptions to the rule. Guys like Bukus or Reggie White can make such an impact on defense that they transcend the general rule.
Still, at an early age it's certainly hard to predict just how much of an impact a defensive standout will have and how that will resonate with fans and demand. And as always, there could be that one collector out there who is searching for their own "holy grail" and you could just happen to stumble upon it grabbing a third stringer's autograph at your next Titans-Chiefs football game.  One could point to a unique, athletic, driven talent like J.J. Watt, however, and safely assume that if he stays healthy, he'll be among the all-time greats.  Grabbing a certified autographed Watt football card from early in his career may be a smart move (see below).
2) Players in Major Media Markets Do Well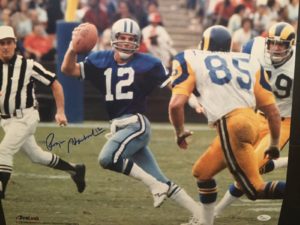 It's no secret that players in larger cities with larger fan bases do better than average in terms of value. A Dallas Cowboy quarterback might have tremendous worth compared to a similarly talented quarterback in Buffalo. The exception is that in some smaller markets like Green Bay the franchise is so storied that the value is typically equivalent to the larger markets.
For example, an Aaron Rodgers autograph on eBay would hold its own quite well against a Dan Marino or a Roger Staubach. That's because the demand for Green Bay memorabilia will always rival that of larger cities because of the team's international fan base.  Winning a couple of MVP awards certainly doesn't hurt as you can see from prices for Rodgers autographs, which will only increase if he continues to have success.
3) Players Who Don't Sign As Much Are Coveted More
If a player doesn't often sign, the market certainly goes up for that autograph. Just like any supply-demand basic, if a player is doing multiple signings during the offseason then his John Hancock isn't worth nearly as much as it would be if he were very inaccessible. Some players deliberately sign very little in public to keep the demand--and value--of their autograph high.  Others try to please as many as they can to avoid creating a market so as not to seem greedy.
4) Championships Add Value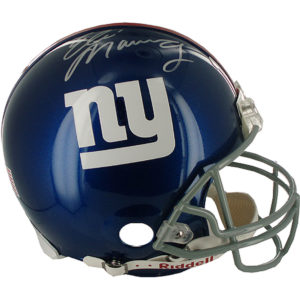 Whether anyone believes it or not, a title adds value to an autograph. Eli Manning is a good example of an average statistical career quarterback who has autograph value because of his two NFL Super Bowl titles with the New York Giants. A Super Bowl ring adds validity and allure to any NFL player. Add to that he plays in a major media market and is party of the "Manning Quarterback Tree" and it's easy to see why you'll spend $100 and up even on a certified autographed trading card from Panini or Topps.
5) Value of Positive Press
The value of the positive media image also plays a role in the value of an autograph these days. A good example might be Chicago Bears quarterback Jay Cutler. Cutler, who seems to never come out on the bright side in his media portrayals, is certainly hurt by his negative image. On the other side, a guy like Tony Romo who frequently grins during games and smiles during interviews is more liked by the masses and his value might have a little more upside even if the statistics were dead even.
With these values in mind, here are some of the young NFL football players worthy of keeping an eye on for autographs.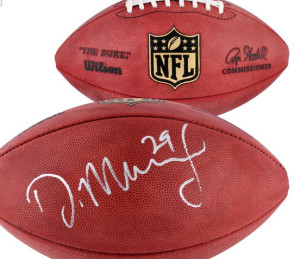 DeMarco Murray-Philadelphia Eagles
Leading the NFL in 2014 in rushing, Murray proved his worth on the football field and that he can stay healthy. He did it in a large media market and is now playing in another large market. Murray could be enemy number one in Texas but he'll most likely be the most coveted autograph in Philadelphia. He's also got fans in Oklahoma, where he was a star for the Sooners.
If he can stay healthy, Murray could end up putting up monster numbers and could become one of the NFL's all-time greats. If the Eagles win a Super Bowl, the value explodes.
DeMarco Murray autographs on eBay
DeMarco Murray autographs on Amazon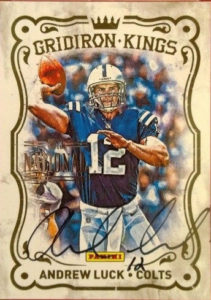 Andrew Luck-Indianapolis Colts
Perhaps the best up and coming young quarterback, Luck has the Colts on the verge of a possible Super Bowl. The  Colts' QB took over for Peyton Manning and made people quickly forget about #18. Luck is the franchise in Indy and the Colts will certainly continue to build around him over the course of the next several years. He's on pace to be a Hall of Fame quarterback so his autograph now would definitely look good later.
Andrew Luck autographs on eBay
Andrew Luck autographs on Amazon.com
J.J. Watt-Houston Texans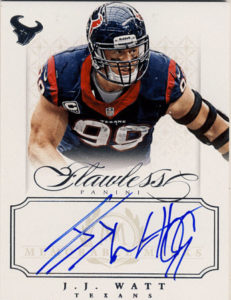 Watt crosses into that rare territory where his skills as a defensive player just push him into household name territory. Watt is a true game breaker and has shown propensity to even score touchdowns, something that puts him on a special plane. He's the franchise for Houston and a very coveted NFL autograph.
Watt has long been known as a hard worker with a non-stop motor who plays with enthusiasm and is good to fans.  All of that, plus his basic skills as a pass rusher and playing in football-mad Texas add up to a very positive long-term future.
J.J. Watt autographs on Amazon.com
Odell Beckham, Jr.-New York Gia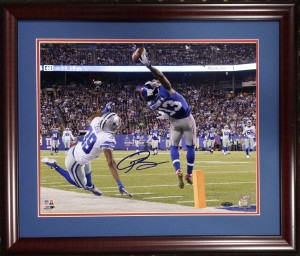 nts
Beckham, Jr. exploded onto the scene as a rookie wide receiver with one of the most incredible catches in NFL history. The jury is out on whether Beckham, Jr. can maintain it for the long haul but he definitely has the talent. Beckham, Jr. is among a handful of talented rookie wide receivers from the class of 2015 that could end up being Hall of Fame territory. At this point, Beckham, Jr. has probably generated the most buzz.
Odell Beckham autographs on eBay
Odell Beckham Jr. autographs on Amazon.com