Sports autographs have only been considered a commodity since players like Mickey Mantle, Joe DiMaggio and Ted Williams began to get small contracts from card show promoters in the early 1980s.  Now, buying sports autographs of these late legends and others is a little more complicated.
It may seem hard to believe now, but Mantle autographs were once available at shows for $5-10.  Even though The Mick turned his post-career fame into a nice living through paid signings and put his name on memorabilia thousands of times, there is still a demand for his autographed items and you'll now spend $400 and up for a Mickey Mantle autographed baseball; more for a nicer item or oversized photograph.
Now, even lesser known stars are in at least some demand by collectors.
So how do you know the autograph is real?  The simple answer is to get a stamp of approval from a sports autograph authenticator.  PSA/DNA is one such company.  James Spence Authentication is considered another reliable firm.  However, do your own research first.  There are other 'authenticators' out there who aren't exactly trustworthy.
There are many autographs which carry a certificate of authenticity from so-called forensic handwriting experts who have been known to study only the autograph itself—not the signing trends or signing history of the player.  One must take into account how a player signed his name in a certain era and also if it is even possible that the item in question matches the life and career of a player.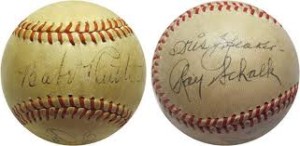 Is it always necessary to spend extra on sports autograph authentication?  The short answer is …maybe.
If you are spending a significant amount of money for an autograph, it would probably be best to make sure it has been viewed by someone who has seen that signature before and deemed it likely to be authentic.  That is especially true for something like Mickey Mantle autographs which have, through the years, been forged by talented con artists.
However, modern day autographs simply may not be worth an unscrupulous attempt at forgery.  There are many autographs on eBay that are perfectly fine, even without a COA.  Check the seller feedback and try and get the provenance of the item if it is not in the description.  Simple common sense is often the best guide but  there are some excellent books on autograph collecting and authenticity on the market that we'd recommend.  See them here
.
Just remember, especially when buying rare sports autographs, if it sounds too good to be true it probably is.