Remember those trips to the corner drug store? Or perhaps it was the friendly neighborhood grocer. You waited for the day when you'd saved up a few pennies and nickels, and you set out for another visit to the candy counter, sticking your hands into your pockets every few steps of the way, just to make sure those precious coins were still there.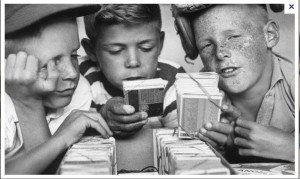 Once inside the store, your heart beat faster as you grabbed the small package wrapped in a colorful type of wax paper. The rest of the counter was overflowing with every kind of confectionery imaginable, but the chocolates and licorice sticks would have to wait until the days of summer had passed. There was no possible way you were going to pass up a chance to find your first picture of Mickey Mantle sitting under that pink slab of bubble gum. Most of the time, he wasn't there. You might have found a Don Zimmer or Robin Roberts, and if you were able to spend a little more of your lawn-mowing income, you might have come up with a few more of the All-Stars. Yet you HAD to keep trying. The Mick was not going to avoid you this summer.  It's those classic baseball cards that are among the favorite images of our youth.
No matter if you were from the age of Mickey and Willie or Pete Rose and Nolan Ryan or even The Big Hurt and Junior Griffey, you recall a similar experience from your childhood. Oh, the names may not be the same.  If your father or grandfather was a product of the Depression Era, perhaps Babe Ruth and Lou Gehrig were the biggest "hits" on the block.
No matter what the date, the baseball card has always been an American institution. You bought baseball cards as regularly when you were a kid as you pay bills today. And as avidly as you save your receipts nowadays, certainly you must have hung on to your boyhood heroes for all these years.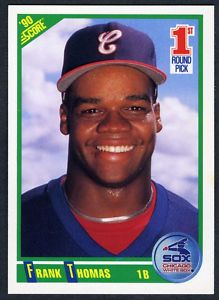 You didn't?  Well, you needn't feel too badly. You've got lots of company.
Those rectangular pieces of cardboard that your mother probably tossed into the garbage during one of her spring cleaning tantrums are rising into popularity in the world of collectables. You're not going to become an instant millionaire by giving a collector a crack at a pile of 100 cards that might be twenty years old, but they were surely worth the foot or two of closet space you stored them in.
If you were a crew-cut kid of the 1950s who happened to acquire a card or two of a rising young Milwaukee Braves' outfielder named Hank Aaron, you could quite easily exchange Hammerin' Henry's picture and biographical info for cold, hard cash today.
Many of the average collector's most coveted cards, however, aren't big name players. From the 1950s through the early 1970s, Topps released its set in series—sometimes as many as seven separate ones between February and October. By the end of the baseball season, most youngsters began purchasing the new football cards, and retailers had a difficult time selling the final series of baseball cards. Therefore, that series became mildly scarce.  If that last series also contained a well- known player, that card is now often regarded as an uncommon card.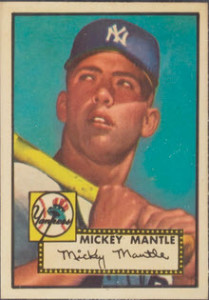 The classic example of last series, or "high number" rarities is the 1952 Topps set, the first complete issue that the company produced. Common cards from the first few series can be had for a few bucks each in average condition but card numbers 311 to 407, the final series, are worth a lot more. Add to this the fact that Mickey Mantle's first baseball card was issued as no. 311 in the 1952 set, and it is no wonder that a copy of the '52 Mantle card, often fetches $15,000 and up unless it's in really rough shape.
In fact, Mickey Mantle cards of all kinds have been soaring in value after years of steady upward climbing.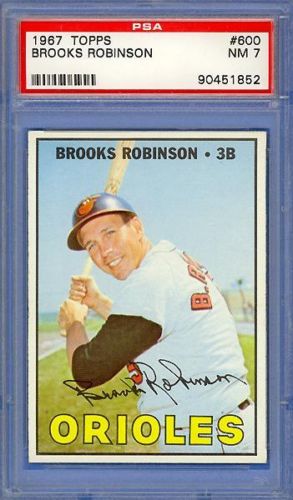 Collectors in the 1960s have their favorite rarities, like the 1967 Topps Brooks Robinson.   Robinson was printed as no. 600 in the set, one of the cards in the last series.   A husband and wife team, after stumbling upon a case of unopened 1967 cards many years ago, searched diligently through the entire box of several thousand cards---and found not one Robinson.
Of course, they would have been smarter to leave the case unopened considering the value of vintage unopened sports cards today, but the idea planted a seed that the '67 Brooks Robinson wasn't easy to find.  And while the internet has opened us up to the fact that it's not as tough as some used to think, it's still a challenge to locate a high-grade example for a reasonable price.
The '52 Mantle and '67 Robinson examples prove quite clearly that a card does not have to be ancient to be considered valuable. In fact, there are many cards that are more expensive than a common T20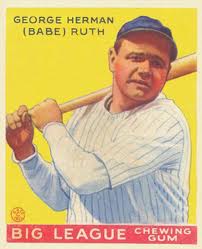 6, a large issue of tobacco company cards from 1909-1911.  But should you be so fortunate as to own a Babe Ruth or Lou Gehrig card produced by Goudey Gum in the early 1930's you've got one that's both old and valuable: The Bambino's rotund physique, or the Iron Horse's smiling face generate $1,000 and up, even for lower grade examples.
Despite some of the more extravagant sums of money paid for rare and high grade classic cards, baseball card collecting is perhaps one of the cheapest hobbies one could enjoy. The sons and daughters of those who loved Rickey Henderson or Don Mattingly as kids can come to card conventions with a few dollars  in their pockets and walk away with a stack of cards pulled from a 'dime box' or 'quarter box'. Finding the cards needed to complete sets of cards year-by-year from the 1970s-present won't cost much more than that.
Baseball cards have often contained printing errors.  Whether they were corrected or not is what determines if there's a premium.  Many errors and variations are found in the sets of the 1950s and 60s and with baseball solidly entrenched as the national past time, even young fans could spot them. Some were hardly noticeable, perhaps a misspelling of a player's name on the back, or an omission of a minor statistic.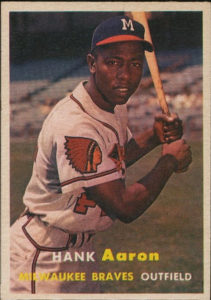 Others stood out quite clearly to a bona-fide baseball aficionado.  In 1957, Topps made Aaron into a left-handed batter—without letting Henry know! Apparently, the reverse negative was used when the card was being printed, giving the impression of Aaron batting in opposite form. When a card didn't look right, most of the time it was though an oversight by Topps or Bowman. But there were occasions when a fun-loving major leaguer would get into the act. Detroit Tiger third baseman Aurelio Rodriguez was one such performer. Rodriguez, then a member of the California Angels, sent a batboy who bared a mild resemblance to himself out to pose for the photo session held by Topps to use on their 1969 cards. Although Topps probably wasn't amused when it discovered that it was printing the picture of an obscure teenager and the background information on Aurelio Rodriguez, that batboy will likely live on in baseball history as the youngest player ever to appear on a card.
Not surprisingly, when the words "baseball cards" are the subject of a conversation, most people will associate the cards with the pink stick bubble gum that came to be almost as much of a part of baseball history as the card itself. Yet many of the most popular cards in existence are those which were used as promotional devices for stores, in food products, chewing tobacco and the like. Tobacco companies were probably the first producers of cards, and contrary to manufacturers of today, their promotional tactics were aimed at adults. Five or the ten rarest cards in the hobby are tobacco-issued cards, issued from the early 1900s to 1920s.
Too far in the past for recall?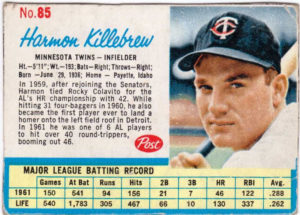 Well, perhaps Post Cereal's baseball and football cards from the early 1960s are more suited to your era. Today these cards are worth around a dollar each for common players, while stars will set you back more.  Hostess and Kellogg's produced 'food issue' sets in the 1970s and they've also been known to come with pizza, beef jerky, ice cream, candy bars, hot dogs and just about every other type of food product you can think of.
Advanced collectors find it more of a challenge to engage in buying and trading to obtain a complete set of Cloverleaf Dairy or Kahn's Wieners cards issued only in some areas of of the nation decades ago than they do to write to or buy directly from a dealer who has a volume of perhaps 500,000 cards issued by Topps during the same time period. Because of the limited distribution of the regional card editions, their value is also enhanced.
During the early 50s, then the Braves were the hottest thing in Milwaukee since beer, Johnston Cookies issued a set of cards for the entire Braves team for three consecutive seasons.  No Wisconsin family could quite stomach a box or two per day, and thus the Johnson Cookie cards are not to be found in large quantities in collections of card enthusiasts
To this point, only the baseball card aspect of collecting has really been emphasized, but there are collectors of just about any sports collectable that one could imagine.  And although first in collecting popularity among the major sports, baseball is not the only game in town. There are many football, basketball and hockey items that are of comparable monetary value and esteem.
Still, as long as baseball endures as the national pastime, collecting baseball cards will endure as a part of this pastime, taking a back seat to no other form of sports collecting.