Autographed sports memorabilia establishes the connection between player and fan.   Most collectors appreciate the items they've collected by placing them in a safe location but not everyone has a lot of experience in this area.  Autographed baseballs are what we're focusing on here and how to manage them is important if you want to preserve your collection for the long haul.  The best methods for storing autographed baseballs will involve a small investment in quality supplies.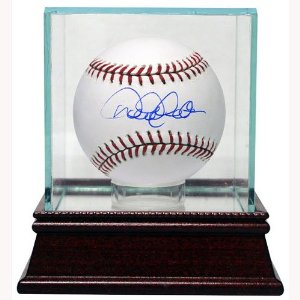 Just like the great paintings, autographed baseballs are a reflection of something significant. A faded signature can impact both its sentimental and monetary value. Having your signed baseballs in top grade is paramount to ensuring longevity and quality.  Autographed baseball preservation and authentication is vital because they are the sports memorabilia items most prone to wear and smudging.
No one wants to have an autographed baseball that is worn due to excessive handling. The ball should be held by clean hands only—and then only minimal contact is advised, preferably on the stitches.
Storing autographed baseballs in protective cases is a must in order to ensure safety.  Of course UV rays can cause damage for autographed baseballs. Placing them in such environmental conditions can lead to severe fading that could easily be avoided.  In other words—keep them out of direct sunlight.
The recommendation is to always to store autographed baseballs in places away from young children and those who might not care much whether they're safe or not. If they are being stored at home, put them out of harm's way.
Many individuals have special rooms designed for storing autographed baseballs and other sports memorabilia. They collect items of similar significance and store them in 'man cave' or special room/office.  What fun is owning a signed baseball collection if the only person who sees it is you?
Glass displays
are the finest methods to display autographed baseballs.  They help the baseballs avoid damage from the atmosphere around them, yet it is easy for anyone wishing to observe the baseball to look at it through the convenience of the glass. As long as the display is kept clean, this is best method to ensure the baseball remains in 'tip-top' condition.
Glass displays are not as costly as one would assume. Of course, if one is willing to go and dole out money, there are better options available. The quality of the glass can be improved to better protect the item inside.
You can also buy high quality Plexiglass or acrylic type holders
made in both square and ball-shaped designs.  Generally, the higher priced these items, the higher quality display they will provide.  It's really about that simple.  If you have a large collection and feel confident in your ability to keep it stored safely, lower cost holders may be an option.  If you want the entire presentation for a select number of special, valuable signed baseballs to be first class, it's probably best to go with the more expensive model for storing autographed baseballs.  Just be sure that whatever you buy can be safely cleaned without showing the effects of your cleansing method.