Baseball cards are a commodity that have been available in all of the past three centuries. Starting off in the late 1800's with cards in cigarette packs, the industry has come a long way. Taking a look over the years, there have been a number of great sets. Let's take a look at the very best from each era of cards.
Click the links inside the story to see those cards on eBay.
Pre-War Baseball Card Sets
Just to be clear, these cards range from the very first baseball card made, all the way to World War II when rations made it nearly impossible for to mass produce sets.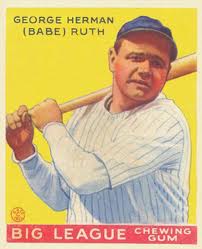 From this era, perhaps the best set of them all is the 1933 Goudey issue. This 240 card set is also known as Big League Chewing Gum. These were the first baseball "bubble gum cards" ever produced, making the transition away from cigarette cards. Despite these cards being over 80 years old, all but the biggest names can be had for a relatively low investment if you're not expecting cards in the highest grades.
Commons can be had for under $10 but there are several players considered 'common' who were actually very good players in their day.
The most valuable card in the set is Nap Lajoie, who wasn't actually in packs.  Goudey purposely left a missing card in the series to entice youngsters to buy more packs.  When they wrote in to complain, Goudey produced a Lajoie card and sent them to those customers.  Today, they sell for thousands of dollars and few exist.
The Goudey set is also popular because of the inclusion of four Babe Ruth cards, all of which sell for $1,000 and up, even in lower grades.
While some may give the 'best baseball card set' of the pre-War era award to the T206 issue, completing a set is cost prohibitive for most because of the cost of the rare Honus Wagner and Eddie Plank cards, not to mention the Sherry "Magie" and Joe Doyle "NY Nat'l" variations.
Post-War Baseball Card Sets
This era starts during the early 1940s (yes, WW II was actually still underway) and vintage card collectors will generally say it ends in 1980, the last year of the Topps monopoly.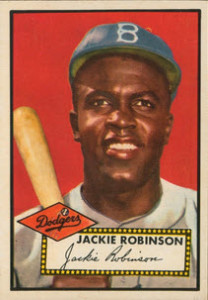 In this time frame, Topps dominated the industry which is why it is only fair that their first issue from 1952 tops the list of post-WWII cards. This set is sought after by all the top collectors in the industry, especially the Mickey Mantle card from the scarce final series.
The set included 407 cards in all which were slightly bigger than the cards today. At 2½ inches by 3½ inches, modern baseball cards are a bit smaller than the 2 5⁄8" by 3 3⁄4" that turned youngsters' heads. Despite being almost 20 years older than Goudey cards, the 1952 Topps set is usually more expensive because of the last series.  The well-known story is that Topps couldn't sell that final run, which included not only Mantle, but Willie Mays, Jackie Robinson, Eddie Mathews and other stars, so a few years later, they towed them out to sea on a barge and dumped them into the ocean to create space in their New York office.
The 1952 Topps set won't be a cheap one to build, but you can still pick up cards from this set in middle grades for a reasonable price and owning even a partial set or team set is a worthwhile project.
Modern Baseball Card Sets
Taking a huge leap into the future, modern baseball cards are much different than their prehistoric counterparts. Printed on glossy stock, the gum has long been left behind.  Topps more than 20 different products each year, ranging from their flagship series that's been a part of baseball since that 1952 issue, to the high-end, autograph and memorabilia card versions.
In the 1980s, 90s and part of the 2000s, they had competition from other MLB licensees.  While Topps now has an exclusive, it's some of those other products that have made it interesting.
Upper Deck changed the hobby forever with its 1989 debut series that included a completely different card stock and holograms on the back, supposedly to prevent counterfeiting.  While there were far too many printed for prices to skyrocket, the sets have maintained some value because of the iconic Ken Griffey Jr. rookie card.  However, as a whole, there's a set we like better.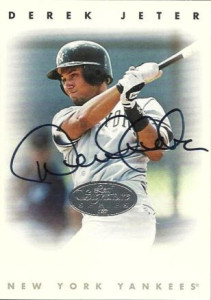 Eighteen years ago, Leaf released their Signature Series, a landmark product which was the first MLB set to guarantee at least one autograph per pack. As one of the first mainstream issue with signed cards, Leaf brought the baseball card industry to a whole different level by providing fans with signatures from 150 players around the league. It includes many stars but also some guys you've probably forgotten.
The product was released in two series, extending into 1997 and it's that 'extended' set that's more rare.  Each player was to sign 5,000 cards, but there were some stars who only signed 1,000, probably because of the cost to Leaf.  There were two autographs in each Extended series pack and one out of every 12 packs had four autos.
The 1996 Leaf Signature Series provides value, as cards from that set tend to be among the cheapest signed cards available.  Some common autographs are less than $2 each and others from stars and Hall of Famers are within reach of most collectors. For taking baseball cards to the next level, it gets our vote for the best baseball card set of the modern era, if not one of the most significant.
There are other things to keep in mind, too, if you're looking to invest in vintage baseball cards.
See also: