There might have been a time when a shoebox was fine for trading card storage. However, as your collection grows, you will want to invest in ways to not only store your collection but display it as well; and since not everyone can afford the space it takes to keep a sports museum in their spare room, let's look at some of the best ways to not only keep your cards in pristine condition, but also organize them and create a great display using little space.
Baseball card supplies are inexpensive, readily available and a must for anyone who has a collection worth preserving.
Trading Card Storage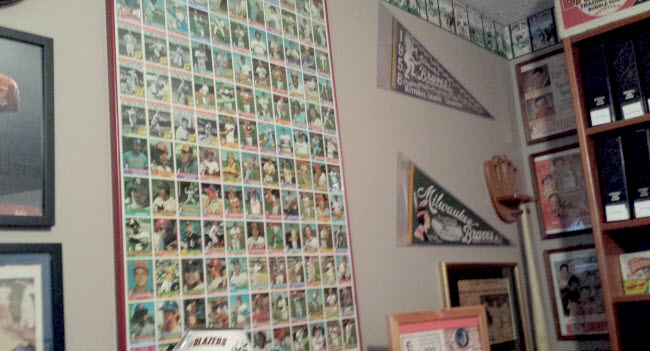 As any collector will tell you, keeping your cards in good condition requires storing them properly:
1) Soft Sleeves–The first step in storage is generally the penny sleeve or soft sleeve. These are clear plastic covers that you slide over your card for protection. They are inexpensive, with a package of 100 selling for as little as 99 cents.
2) Top-Loaders–Designed to hold your card with the soft sleeve already on, top-loaders are made of semi-rigid plastic. When considering using top-loaders, first consider your storage space. Top loaders provide more protection, but they do take up more space than just the soft sleeve. You may want to reserve top-loaders for some of your more important cards.  You can also purchase top loaders that are less rigid.  These will allow you sports cards to be removed more easily, and while not as hard as the semi-rigid top loader, they generally offer your cards plenty of protection.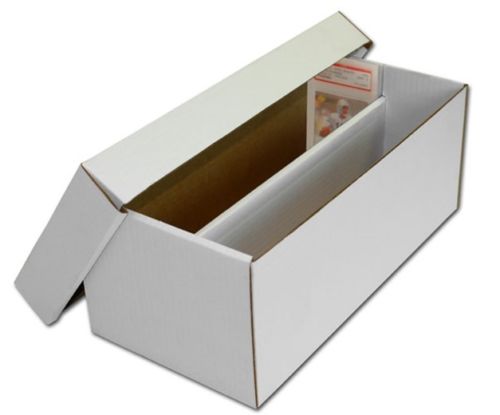 3) Trading Card Boxes–While shoeboxes will suffice, they do not allow for maximum sports card storage because the box isn't designed for it. So, most collectors will at some point decide to invest in specially-designed trading card boxes. They are stackable and you can choose sizes according to your needs. Some trading card boxes are designed to fit sleeved cards while others have slots big enough to accommodate top-loaders.
4) Trading Card Albums–Collector albums come with pages especially designed to hold your cards. While they are more expensive than sports card boxes, trading card albums do have two advantages. 1) They allow you to easily look through and share your cards with others by creating a ready-made display, and 2) they can be placed on a book shelf, taking up little room where space is tight.  You'll want some baseball card pages, which can be found online for a reasonable price when purchased in quantity.   You can also find them at a local sports card or comic book shop.
5)Screw Down Cases–These are hard plastic cases that hold one card per case. Because they take up more room than alternatives, screw down cases should be reserved for more valuable cards. As a bonus, they can be displayed using a stand which can be purchase with the case.
6) Acrylic Holders–The ultimate protection, acrylic holders encase your card in up to an inch in hard acrylic, ensuring nothing will get to them to cause damage. Acrylic holders are generally reserved for the best in a collection.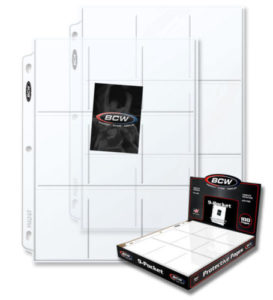 Trading Card Display
Of course you're going to reach a point where you will want to display some of your more prized baseball or other sports cards. As mentioned earlier, trading card albums are a nice way to do that. They also take up little space when not in use. If you want to create a full-time display of your album, you can purchase a stand or stand album, which can then be neatly tucked away when not on display.
Another good option is using a wall-mounted sports card display. Much like a picture frame, wall displays come in a variety of sizes to fit your cards. If you only have a couple of cards you want to display, cubicle shelving units work well when paired with an acrylic holder. You can then show off your sports cards and still have spaces for other things—like that prized autograph baseball or cap.
Sports card collecting isn't complicated.  They're your cards, so you should store and display them however you like.  However, by keeping it organized, protecting your cards, and placing the best pieces out for display; you can ensure that you will get maximum enjoyment from your sports card and memorabilia collection and have something to show your friends and colleagues.
To purchase items for trading card storage and display, click here.