There are some important factors to keep in mind when buying sports memorabilia and sports collectibles.
The first is simply to know you are buying something you truly love.  Any purchase should be something that will put a smile on your face every time you look at it.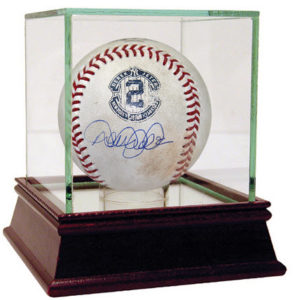 Another important factor when buying sports memorabilia is to make sure you have the right display case. If you want your sports memorabilia to stay in good shape over time, then a display case will definitely help.  A good display case will certainly enhance its visual appeal as well.
Authenticity is another important piece to buying autographed sports memorabilia. Knowing your signature is a true signature is important so make sure it has been verified by one of the industry leaders such as PSA
or James Spence Authentication.  They aren't perfect.  No authenticator has a spotless record, but if something is JSA or PSA authenticated you can feel as confident as possible that you're getting the word of two of the most trusted names in the business.  Steiner Sports is another company that has exclusive deals with high-profile sports figures and conducts regular signing sessions with them.  Thus, they are able to sell genuine autographs of all kinds direct to the public.
If buying sports autographs on eBay, You want to do research on the company you're buying from and get to know them. Look at feedback  and comments left for the company so you have peace of mind when purchasing your sports memorabilia. When purchasing online you should be able to see a clear image of the memorabilia on the website. If something is blurry online than there could be a chance they are hiding something or there is something wrong with it. When buying in a store you want to be able to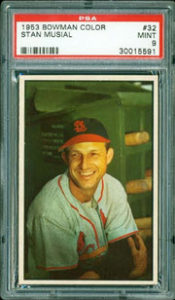 examine the entire item and make sure there is nothing wrong with it before you walk out.
When purchasing vintage or modern era baseball cards graded cards are the safest way to go.  Compare prices of the highest graded card you can afford and pick the one that suits you.  It's the icons of the sport that tend to hold up well: Ruth, Gehrig, Mantle, Rose, Ryan and key Hall of Famers from other sports like Michael Jordan rookie cards and Wayne Gretzky rookies.  If you prefer active players, invest in high quality, low serial numbered cards of young stars who are universally acclaimed.  A look at the best Connor McDavid cards on eBay will give you an idea of the confidence fans and collectors have in a very special talent.
The most important thing to know is you want to buy an item you know you are going to love and be happy with.  This item could be something you want to be able to pass down from generation to generation in your family. It's something you want to be able to cherish for a very long time.
You should buy something you know will hold its value but also an item that truly has a sentimental value to you. Collecting sports memorabilia allows you to bring back that favorite sports memory or favorite player. You want to be able to bring your favorite athlete or favorite team or favorite moment to life with your sports memorabilia.  Don't focus on buying what everyone else is buying.  It is important you are passionate about the item you are buying and confident it's something you feel confident is authentic.