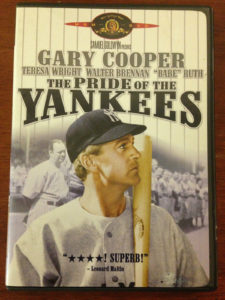 Sports movies have been a box office staple for many years. Each year a new blockbuster typically comes out and showcases one of the three major United States sports.  There's no secret that baseball movies are hugely successful and perhaps the most successful of that trio. In recent years, 42, Million Dollar Arm and Moneyball have been added to the already rich baseball movie landscape.
Whether it's fiction or a loosely based documentary, the baseball movie genre has a place in the heart of many Americans. But what place do individual baseball cards have in the movies or even television shows for that matter?
Baseball cards certainly haven't been a dominant theme in sports movies over the years. You'll be hard pressed to find cards and memorabilia as a focal point in any of the well known movies. The focus is almost always on the athlete and rarely on a collectible. However, baseball cards have surfaced from time to time in Hollywood. It might be in passing or maybe in the background serving as a prop to make a scene look more authentic. Here are some movies where cards play a small or somewhat prominent role.
Pride of the Yankees
The Gary Cooper film Pride of the Yankees made in 1942 centers around the legendary Lou Gehrig. In 2014, the New York Post listed Pride of the Yankees as the #2 baseball movie of all time. It could also be the first movie to illuminate baseball cards. When Gehrig is young in the opening moments, he mentions Honus Wagner and Tris Speaker. Collectors will be pleased to find some scenes involving T206 cards in one of the more historic baseball movies ever made.
It all leads up to his fabulous career, one amazing baseball movie and the memorable "luckiest man on the face of the earth" speech that moves so many of us to tears. The movie also spawned quite a few memorabilia items of its own. There are posters signed by Cooper and Gehrig as well as actual baseball cards from the movie circulating these days on eBay. Even on set pictures are available to memorabilia collectors.
A Christmas Story
This Christmas classic tale based in nort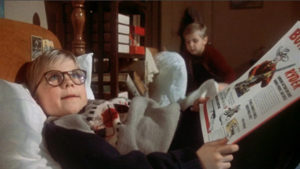 hern Indiana features young Ralphie in the early portions of the movie daydreaming on his bed. Pinned up behind him are several baseball cards. One blogger estimates that two are T206 while the other is a 1936 Goudey Wide Pen. Ralphie is of the era where he'd have been much better off to remove the pin and save the cards-instead of romanticizing about a Red Ryder B.B. gun.
It's also a little odd that a movie set mid-century would have some much older baseball cards as a backdrop. At least we all know that the lesson learned is "you'll shoot your eye out, kid!" Probably better than poking out your eye with the corner of a card.
The 1985 movie Mask is a biographical feature about a young man with a cranial disfigurement. As a subplot, Rocky Dennis is trying to collect what appears to be the mid 50's Dodgers baseball card set. The movie starred a young Eric Stoltz as the courageous Dennis and Cher as his mother. The Dodgers of that era included a wealth of talent and big names. The baseball card theme in the movie touchingly illustrates how Rocky was just an average kid who liked the same things other kids loved despite his condition.
Blast From The Past
Not an extremely well know movie, Blast From The Past featured a family who went underground in a shelter to survive a possible nuclear war. The 1999 flick, starring Brendan Fraser and Alicia Silverstone, finally allows the family to emerge after 35 years underground. Adam Webber(Fraser) gets the opportunity to own his father's(a funny Christopher Walken) passed down baseball cards which are worth a fortune after three decades. Eve (Silverstone) works for a baseball card dealer who wants to buy a Mickey Mantle card from the younger Webber. He ends up eventually giving a Rogers Hornsby card in exchange for her help.
Baseball cards certainly haven't enjoyed a particularly prominent role in the movies but they've served for some great aesthetics and background shots for the most part. They're often background actors and little pieces of history with giant sentimental and these days monetary value.