In many cases, the best sets to buy for enjoyment are not those that are the most valuable or those with the 'most' of anything. Rather some nice unassuming issues over the years are fun to own because of how they still exist to this day with sufficient quantities to keep prices in check.  Others may not fit the formula for 'classic' sets while some, believe it or not, aren't as popular simply because they're larger than the standard size cards.  That seems crazy.
Those who look down their noses as some cheap baseball card sets are missing out on some great cards at affordable prices, even some that were issued many, many years ago.  It's by no means a comprehensive list, but here are some sets you might want to look into if you'd like to add some vintage greatness to your collection without taking out a second mortgage.
Click on the highlighted text to find them on eBay.
Pre-War Sets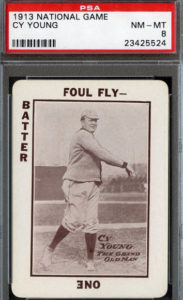 In pre-War cards perhaps the best of the inexpensive sets are the Tom Barker, National Game and Polo Grounds cards.  Used as part of popular tabletop games a century or more ago, these cards feature nice black and white photographs which are definitely period images and give us a good luck at some of the heroes of that time.  Cy Young's National Game card includes the phrase "The Grand Old Man" below his name.
Because of the nature of these cards and how they were distributed,  a surprising amount have remained in really sweet condition and are far less expensive to acquire in high grade then examples such as most tobacco or caramel cards.  While some of the highest profile Hall of Famers do run a decent amount of money in high grade, the overall cost of this set is far less than other period pieces.  Since the set was built around the big names of the day, there is a nice player selection as well which offers the opportunity to own a great Hall of Famer in very nice condition for less than $200.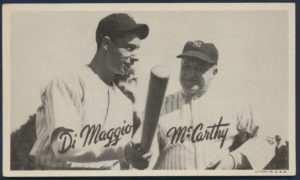 We're big fans of the Goudey Premium issues of the 1930s.  These oversized cards made up smaller sets that could be obtained by sending wrappers to the company.  Filled with big names of the day, they aren't that popular with collectors for some reason and perhaps because of their size, demand is not that high.  They provide a nice challenge for a reasonable price.
Post-War Sets
While some of the players in the 1948 Bowman set are expensive, the small number of overall cards in this issue makes this an reasonably affordable set to complete. Although the Stan Musial rookie card is pricey, as long as you are willing to purchase these cards in "collector condition", it's a good set for the average vintage card collector to chase.  The set is remarkably simple with the clear black and white photos on the front and detailed text on the reverse.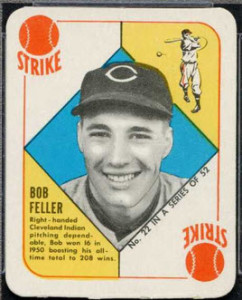 The other inexpensive set during the famed Bowman-Topps gum wars of the early post-war era is the 1951 Topps Red Back set. Although some price guides over the years (including Beckett Baseball Card Monthly #1) did not always list it in their price guide, there is little doubt these cards are important as Topps first all-baseball set. One aspect that has kept the Red Back cards reasonable over the years was a large find of unopened packs a little more than 30 years ago and thus everyone who really wanted a set was able to complete them.  In addition, since none of the truly big names from that period are in that set even the Hall of Famers are very affordable.  The Blue Back set is a little tougher but if you want a true representation of baseball at the time, buying both is probably something you'll want to do.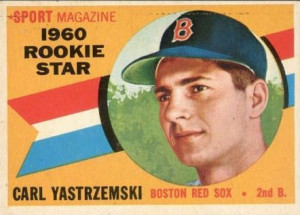 In the 1960's, the one set that is the most plentiful and probably the cheapest is 1960 Topps. It seems there are more 1960 cards in the market place than any other set  through 1967 and even the last series is not as difficult to obtain. With only two Hall of Fame rookie cards (Willie McCovey and Carl Yastrzemski) of which neither is a mega-star, every aspect of this set is reasonable. Even the high series cards are much easier to obtain than the surrounding years.
And in the 1970's, perhaps the cheapest but most star-packed set to purchase on an overall basis is the 1976 Topps.  With only one HOF rookie card (Dennis Eckersley) and a second year George Brett card which is tricky to find well- centered, there really are not a ton of challenges to completing this set. It also boasts Hank Aaron's final card, which makes it attractive to collectors (he actually bookends the set with a Highlights card as #1). Many believe this is an underrated design as there is a certain simplicity as well.  Complete sets can be picked up at reasonable prices on eBay.  Sets from 1977 and 1979 might be a few dollars less but you'll get a little more bang for your buck with the '76.
If you're looking for a sampling of cheap baseball card sets priced at less than $10 with free shipping, click here for a list we've compiled in cooperation with eBay.