Most are in the minor leagues now and even those who may have had an early taste of the big leagues have yet to really explode.  With the season just underway, it's a good time to take stock of some 2015 rookie cards on the rise.  Their 'official' rookie card arrival isn't here yet, but don't let that deter you.  The demand is often for cards issued while a player is making his way in professional baseball such as the Bowman products that feature the first official cards of the game's biggest prospects.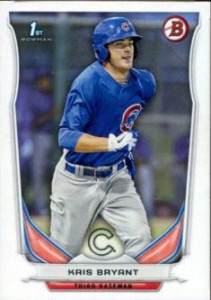 2014 Bowman Prospects card (#PB25) is worth pursuing as it can be had for around a buck and is easy to find.  Once he starts hitting in Chicago,  it could be a smart bulk investment.
A year before, Bryant was depicted on a Bowman Draft Picks card with Colin Moran, the Miami Marlins top draft choice that year (now a Houston Astros prospect). Since the card is not just of Bryant but of Moran as well, it could end up getting that much more hot if Moran makes a name for himself in the big leagues in the future.  You can currently find them for around $1-$2  which seems way too low.
Joc Pederson looks to man center field for the Los Angeles Dodgers now. The perfect mix of power and speed, he is an intriguing option as a breakout candidate.  A pro since 2010, a wide variety of Pederson cards are out there. His 2014 Bowman Chrome Dual Die Cuts card (#DDC-WP) is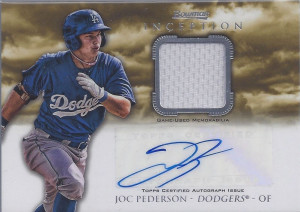 inexpensive and also features Matt Wisler, a promising pitcher for the San Diego Padres.  In a few years we may wonder why this card was once so cheap.
On the higher end, Pederson has several cards in the 2013 Bowman products including his Sterling signed card which has been available for under $40. With any luck and production from Pederson this season, it's primed for growth.  The crown  jewels are the Bowman Chrome autograph cards, especially the low serial numbered parallels, have been hot.
The third overall pick in the 2014 draft draft, Chicago White Sox top pitching prospect Carlos Rodon looks to make a major impact on the big league club at some point in 2015.  The bad news for Rodon is that he has not been a pro for long, so there are not a ton of pro cards of him out there. Luckily, he played for Team USA more than once so there are an abundance of his cards on the market and they do sell well.
From his team USA days, Panini offers up a piece of his jersey on their 2013 USA Baseball Champions Game Gear Jerseys cards, which are usually less than $15. Rodon has very few autographed cards in the market, but so far, they're relatively inexpensive.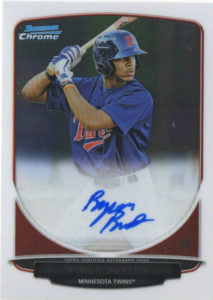 Once again the top prospect in all of baseball according to MLB.com, Byron Buxton looks to impress after missing most of last year with an injury.  The Twins top prospect could be in line for a late season debut if all goes according to plan. A five tool player taken second overall in the 2012 MLB draft, Buxton cards have been hot for a while, but there's still time to get in before he becomes a big league sensation.  His 2013 Bowman Chrome autographs are where the heat is.  You can still get a regular auto for around $175-200 with low numbered cards going for much more.
In terms of cheaper cards, his 2014 Bowman Platinum Prospects (#BPP10) card is readily available for very little, as is his Chrome Dual-Ing Die Cuts (#DDC-BC) card which features him side-by-side with Carlos Correa, the first overall pick in the 2012 MLB draft. Seeing that both Correa and Buxton have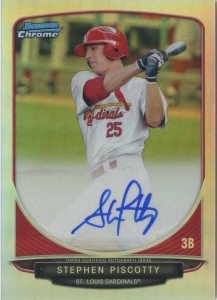 potential to strike it big in the game, such a card could work out for collectors quite well, even if one of them fails to live up to the hype.
St Louis has always been well known for drafting their own talent rather than picking them up via trade or free agency.  Scouts are high on Stephen Piscotty, who looks to crack the Cardinals lineup before long.
If you are looking to pick up some  Piscotty cards you can find him on cards as early as 2012 with regular issue Bowman cards at $1-2 each at most and autographs still at a fairly reasonable level.