As the number of brands exploded as the 21st century began,  a trend which fortunately has ebbed somewhat, the card companies started to produce cards with either autographs and/or relic pieces while at the same time reducing the print run significantly on those cards.  A rare exception to this trend is the 2011 Topps Update Mike Trout rookie card.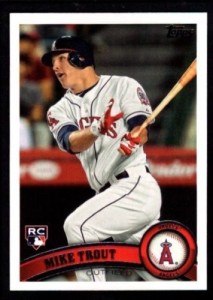 Trout, along with fellow wunderkind  Bryce Harper (and possibly Yasiel Puig) are the two players currently under 25 most likely to impact the game more than any other in the next ten years. Yes, some people might say Trout has already reached the superstar stage but if you look as players such as Cesar Cedeno or Garry Templeton, you learn nothing is guaranteed with any player until his career is concluded.
In 1979, you could have made unlimited money at a show by carrying Dave Parker, Jim Rice and Fred Lynn cards, all of whom appeared to be sure Hall of Fame shots at the time. Out of those three, only Rice was enshrined although there is a possibility Parker will be eventually selected by the Veterans Committee.
Within two years the players being requested at shows I set up were the Phillies trio of Steve Carlton, Pete Rose and Mike Schmidt.  Unlike the previous group, all three of those players had a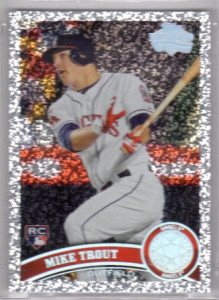 rookie card in a scarce series (Carlton '65; Rose '63 and Schmidt '73). In both cases though, the "smart" dealers and collectors were looking for just about any card so they could flip them for a profit. Currently, the only players I pull no matter what when I open a new product are Trout, Puig and Harper.
Trout also has an advantage because just as the players I have mentioned in the other paragraphs, his rookie card is pretty well defined in the 2011 Update/Traded series. Collectors are happy when they pull this one
out of the still affordable packs, and the photo is also cool.
Plus, if you really want to spend some real money there are parallel versions available of the Trout rookie (like the Diamond Anniversary 'sparkle' card at right) and of course, autographed cards from high end products are the most sought after by collectors willing to invest more than a few bucks.  Click here
to see what's on eBay now.