Traded cards, trophies, pictures of kids and more Hall of Famers than you can shake a stick at are all reasons the 1972 Topps baseball set seems to never end.
The 787 card set was by far Topps largest issue to that point and the biggest set it would issue for another decade.  What could certainly be described as Topps' grooviest set presents a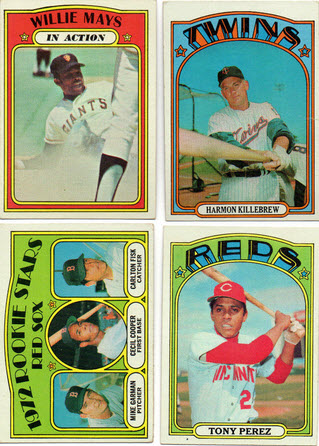 variety of challenges to set builders – its massive size being just one of them.
First of all, it's expensive. There are Cooperstown denizens throughout. Willie Mays, Hank Aaron, Harmon Killebrew and others that broke in in the 50s saw their careers winding down while players like Reggie Jackson, Johnny Bench and Pete Rose were still going strong. All these Hall of Famers (Rose aside) are affordable but they add up if you're trying to piece the set together from scratch. Not only that, but because of the presence of 72 "In-Action" cards, many of which depict Hall of Famers, you have to buy a bunch of them twice.
Rookie cards, however, are a different story. Carlton Fisk (No. 79) is by far the most prominent rookie in the set but only costs about $10-$20. High number rookie cards of John Milner (No. 741), Ron Cey (No. 761) and Rick Dempsey (No. 778) are moderately pricey, but can usually be found for around $10 each or less.
There are also many subsets that contribute to the girth of this set. 1972 marks the first appearance of the Boyhood Photos of the Stars series (341-348 and 491-498), six cards depicting baseball's awards (621-626) and for the first time, Topps introduced the concept of "traded" cards (751-757).
But by far the most difficult aspect of putting together a 1972 set are the sixth series high numbers, which are some of the most valuable short prints of the decade. Depending on condition, cards 657-787 will typically run you anywhere from $2-$6. The fifth series is also short printed but is more affordable. Cards 526-656 usually go for between $1-$2.
There are studs aplenty throughout the fifth and sixth series. Rose, and his In-Action card, as well as Brooks Robinson and Nolan Ryan highlight the difficult fifth series. Hall of Famers Rod Carew and Walt Alston as well as Steve Garvey and Bobby Bonds and the final cards for Hall of Famers Hoyt Wilhelm and Bill Mazeroski highlight the final series. Carew is the most expensive of the bunch. Nice ones usually sell in the $25-$35 range or more.
Also in the high series are seven cards representing Topps' first foray into update cards. Some big names are depicted in the "Baseball's Biggest Trades" subset including future Hall of Famers Frank Robinson, Steve Carlton and Joe Morgan. Also included is Jose Cardenal and the humble beginnings of
what would become one of baseball's best afros. All told, the HOFers cost roughly the same and will typically run you anywhere from $15-$30.
Variations in the set include a minor printing discrepancy on four early Cubs cards. Instead of the space under the C and S in Cubs being yellow, it's green. You can see the differences here. These are actually a little hard to find and run in the $5-$12 range. There are also some minor variations on three checklists.  It also gave us the "is Billy Martin giving us the finger?" card.
If you'd like to buy the set rather than take on this nearly 800 card behemoth, good examples will almost always eclipse $1,000 and ungraded examples could reach as high as $3,000. Condition snobs will tell you that centering is a common problem with 1972s making high grade sets difficult and very desirable. Recently, the sixth-highest set on the PSA Registry – a set made up entirely of PSA 9s with the exception of just five cards – sold on eBay for $28,000.
Five years after the Summer of Love, Topps released a set that looks like it was designed on the corner of Haight-Ashbury. Its Grateful Dead concert poster-inspired look is just one reason the set is a throwback. All sorts of subsets, short prints and Hall of Famers give the '72 set the feel of one of the classic, hard-to-find and expensive-to-buy sets of the late 1950s or early 1960s.