One of Sy Berger's legacies at the Topps Company was coming up with a variety of little in pack bonuses aimed at luring kids to spend those pennies, nickels, dimes and quarters through the years.  From posters to rub-offs to cards used to play games, Topps was interactive long before it really became an everyday word.  The 1964 Topps Coins were proof that the company was up for anything.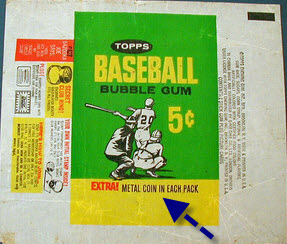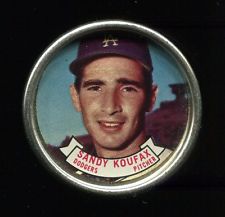 Ambitious and likely one of the company's more expensive ideas, the coins came one per pack of cards—and actually made a return as a new set in 1971.
In '64, the coins numbered from 1-120 were the regular coins while the All-Stars took the high numbers, 121-164. Oddly enough, there is a bit of a misconception on the backs of the coins. The backs state "COLLECT THE ENTIRE SET OF 120 ALL-STARS", when in reality, a low percentage of the players on the regular coins were All-Stars, not to mention there are 164 coins in the set. Also, the All-Star coins say "COLLECT ALL 44 SPECIAL ALL STARS", which again is a bit confusing.
Taking a look even further, there were 60 American League coins in the regular set and 60 of National League players. There was also an even distribution of American League and National League All-Stars at 22 apiece.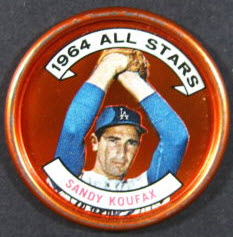 Being made of metal, the coins have a major edge over cards from the same year in that the coins were more durable. One does not have to worry about creasing, bending or ruining the condition of one of these coins if they are the least bit careful, but they were prone to rusting and nicks if you tossed them around casually.  The process also resulted in many coins where the player's image and surrounding graphics are not centered on the face of the coin.
Highlighted by Sandy Koufax, Mickey Mantle (who has two different variations of his All-Star coin), Hank Aaron, Willy Mays, Pete Rose, Roberto Clemente and Warren Spahn, this coin set is packed with Hall of Famers and some of the era's most memorable players.
The backs carried a very brief bio of the player.
Luckily for collectors, the coins are less expensive than their cardboard counterparts. For instance, an ungraded 1964 Topps Koufax coin in ungraded, ex-nm type condition can be had for less than $20. Compare this to his 1964 cardboard which goes for around $50 and up on average in the same type of grade. The same holds true for the other Hall of Famers in the set (and there are many), making it a very attainable set for collectors on a budget.  Even coins graded by PSA, unless they are among the few commons graded at the mint level or high grade Hall of Famers, are not tremendously valuable.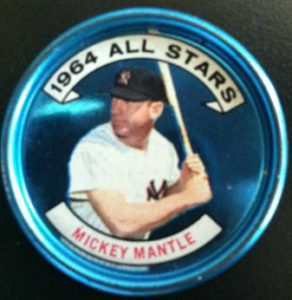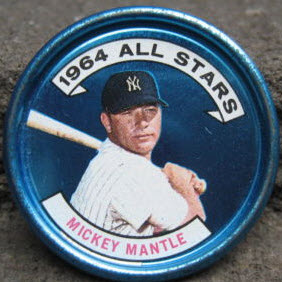 There were variations, too, one based on the switch-hitting ability of Mickey Mantle. His All-Star coin (number 131) comes in two varieties, one of which shows him batting left-handed and the other shows him hitting righty. His regular coin is #120.  It runs in the $50 range while his All-Star ones are around $80-100 in great condition.  The Mantle right-handed variation is a little more expensive sometimes than the lefty but not much.
Coins #161 and 162, Wayne Causey and Chuck Hinton, also have two versions.  Both players' coins indicated "NL" on the back early in the process, but Topps quickly corrected it to "AL" and the NL versions are about three to four times more expensive.
Because more than 50 years have passed, finding high-grade examples of the 1964 Topps coins is a bit of a challenge and sets can bring thousands in truly nm/mt grades but a fairly nice set can usually be found for $500-1000. The All-Star coins mean you will have to track down two Mantles (or three if you collect the All-Star variations), two Aarons, two Mays, two Koufax, etc., but the set is a great way for collectors to get some of the top players cheaper than their regular cards.
With only one per pack, there are far fewer coins in the marketplace than regular issue cards but it's been proven over the years that some collectors opt to skip a set that won't fit conveniently into a box or standard nine-pocket sheet.  That's kept demand—and prices—at a reasonable level.
Click here to see 1964 Topps Coins on eBay  (and by the way, you CAN buy sheets to fit them.  You can find those here
).